DETROIT – Erected in 1974, the nondescript office building at Third and Abbott streets has certainly housed an eclectic range of tenants over its lifetime.
Its first use was as an IRS building. Heavily reinforced floors 20- to 25-feet tall supported the first generations of heavy, clunky IRS computers. Then, the building's reinforced floors were ideal in supporting rows of heavy one-arm bandits, as part of the building's re-use as a temporary MGM Grand casino from 1999 to 2007.
Now, the building trades and White Turner are transforming the 400,000-square-foot building into the combined Detroit Public Safety Headquarters. According to Mayor Dave Bing, the building at 1301 Third will centralize Detroit police, fire, EMS and Homeland Security operations as well as the future additions of the Michigan State Police Forensics lab and the city's Information Technology Department.
"This has been talked about all the way back since 1976, but today it becomes a reality." Bing said at the building's groundbreaking on May 29. "The groundbreaking of this public safety complex is symbolic of the transformation of Detroit, and is the result of partnerships with our state, federal and local law enforcement agencies. We know that this consolidation will increase efficiencies and will redefine how public agencies operate in our city."
A new police headquarters for Detroit likely has been talked about since 1976, Bing said. The current facility at 1300 Beaubien has been the HQ since it opened in 1921, and it suffers from infestation, cramped quarters, and woefully inadequate plumbing, ventilation and electrical services.
The new headquarters building has significant frontage along the Lodge Freeway, but its main entrance will be along Third Street, where a parking structure that served the casino was in the final stages of being demolished last week.
The taller floors will allow for an open floor plan and easy runs of technology wiring, ducts, plumbing and electrical. The $60 million construction project is slated to wrap up in the summer of 2013.
"We put our hearts and souls into this project," said C. Beth DunCombe, director of the Detroit Building Authority, to the Detroit Free Press. "With what we're putting in this building, police and fire will catch up to modern technology."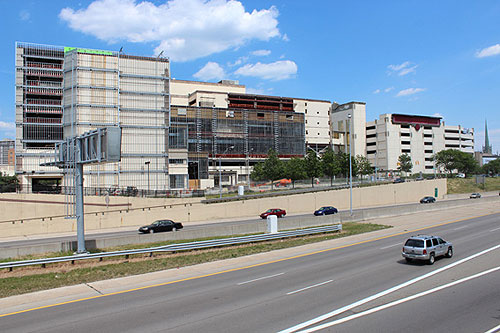 THE NEW PUBLIC SAFETY headquarters in Detroit will have a nice view of the Lodge Freeway.