MOUNT CLEMENS – Building trades union representatives on Jan. 11 contributed $9,550 to the operations of Care House, a facility that helps women and children who are victims of domestic violence. The money was donated in the form of $25 Meijer gift cards, which are distributed throughout the year for clients at the facility to use for food, gasoline, and personal items.
This is the 20th year the union reps have made a similar donation, and the gift cards are in a particularly useful form for the Care House staff to distribute.


"You guys are so wonderful, thank you again so much," said Care House Executive Director Dorie Vazquez-Nolan. "These certificates are so useful for in so many ways, we don't know what we'd do without them."


Located in an old home on Market Street, Care House's mission is "to prevent and reduce the incidence and trauma of child sexual and physical abuse in Macomb County through collaborative, multidisciplinary and effective family-centered activities." Since 1996, Care House has coordinated over 6,500 child forensic interviews and provided support services to over 8,000 families. All services are provided at no cost to the families they serve.


Last year was, unfortunately, the busiest ever for Care House, as the staff conducted 753 forensic interviews of children, up from 605 in 2017. Vazquez-Nolan said of those 753 interviews of victims last year, only four of the perpetrators were strangers to the victim. She said Care House started handling sex abuse cases, but now is involved with physical abuse, neglect, drug endangerment, and human trafficking cases, among others. In July the group opened a second service center in Warren to offer therapy and support to the victims and families they're asked to serve.


Vazquez-Nolan said the gift certificates are "perfect to meet the needs" of their clients, including providing gas money for transportation, school supplies, winter coats and meals for adolescent support groups meetings. "We truly appreciate what you do for us," she told the union business representatives.


"This is what unions do, we lift each other up, we try to lift our communities," said Michigan Painters District Council 1M Business Manager Robert Gonzalez. "Of course no one would ever want a family member or friend to need the services of Care House, but it's so great what they're doing. We're proud to help them provide a very difficult and necessary service to the community."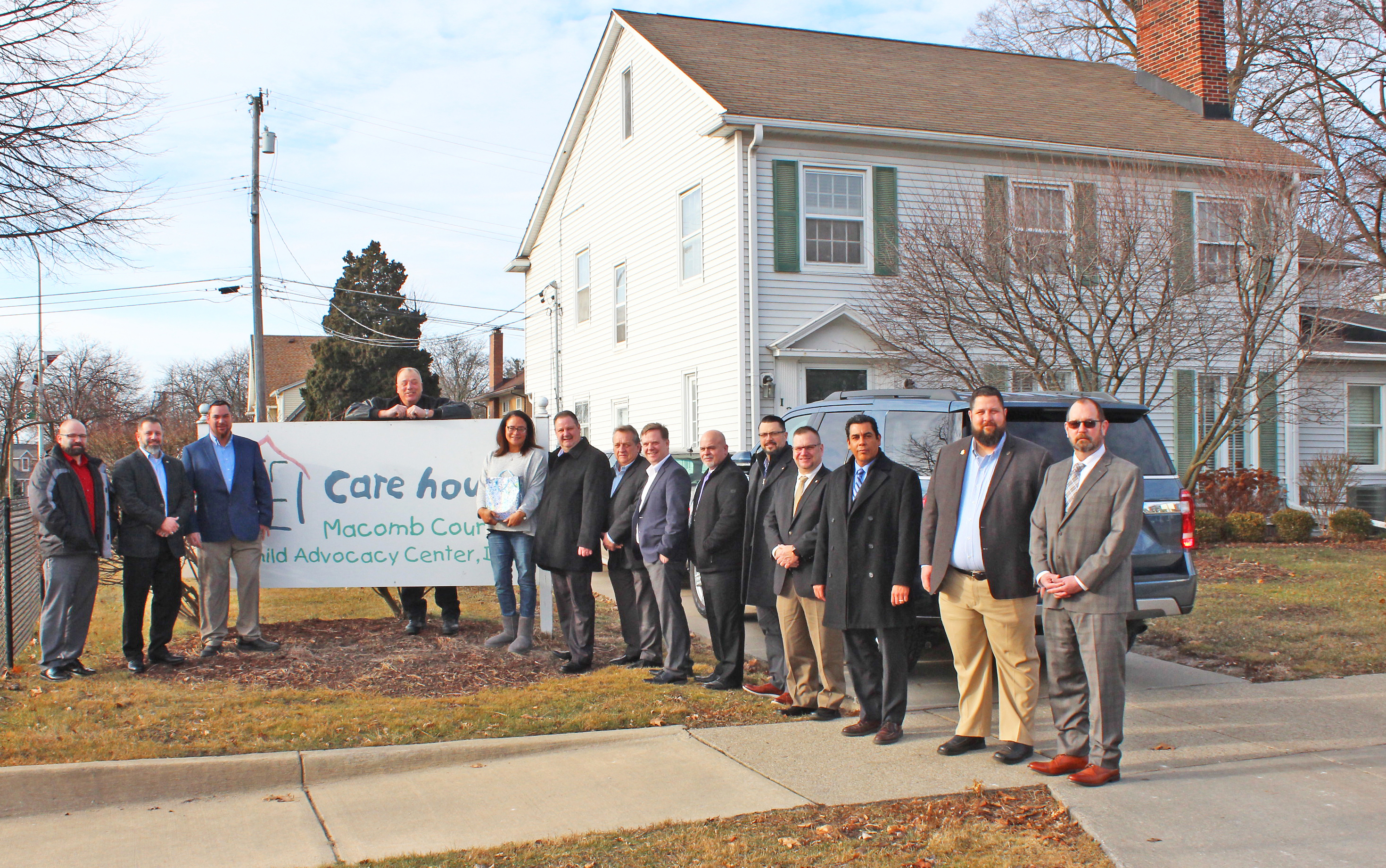 AT THE BUILDING TRADES UNIONS' Jan. 11 presentation of $9,550 in Meijer gift certificates to Care House in Mount Clemens are (l-r) are Bob Williams (Sprinkler Fitters 704); Alex Brzuzek (Sheet Metal Workers 80); Tony Parker (Painters 2352); Jim Ritchie (Bricklayers and Allied Craftworkers 2); Care House Executive Director Dorie Vazquez-Nolan; John Sape (Painters 2352); Ron Sarata (Pipe Fitters 636); Joe Hallman (The Local Credit Union); Jim Horvath II (Iron Workers 25); Jason Grunenwald (Sheet Metal 80); Bryan Stowe (IBEW 58); Robert Gonzalez (Michigan Painters District Council 1M); Don Stepp (Glaziers & Glassworkers 357), and Dave Saaristo (Painters 514).