BAY CITY – By the end of the year, the city's City Hall will be back in service, better than ever.
Until then, the building trades will be working in the building's halls, chambers and offices, restoring the historic structure to a modern version of its former, glorious self.
On Oct. 12, 2010, sparks from a grinder used on a re-roofing project on the four-story building ignited a relatively small fire in the rafters. The building's sprinkler system worked – too well. A deluge of some 20,000 gallons of water put out the fire, but damaged a major portion of the building below. A significant portion of the building's wall, ceiling and decorative plaster was ruined, as were some mechanical fixtures.
"The wet plaster was definitely the major problem," said Dale Schwerin, project director for ServPro, the construction manager. Holes were bored in walls and for months air was allowed to circulate behind the plaster, allowing some of it to be saved. "Now we're fixing what couldn't be saved," Schwerin said. "The old work is being restored, and now a big challenge is to update the building with modern fixtures, and make everything look like we weren't here."
Bay City City Hall was built from 1894 to 1897 at Washington and Eighth Streets, clad with a Michigan sandstone exterior. It "is an excellent example of municipal architecture in the American Romanesque style," says the Historic American Buildings Survey by the U.S. Department of the Interior. When it opened, then-Mayor Hamilton Wright called it "a gem of its kind, a wonder of convenience and adaptation to public needs, a monument to the public spirit characteristic of Bay City, and in which all of its citizens should take just pride."
The building was planned to serve a variety of purposes, including city offices, a police station and library. An attached 180-foot-tall bell/clock tower made the structure a readily identifiable landmark.
The interior was built to impress, with skylights highlighting the aforementioned plasterwork, as well as the beautiful woodwork, ornate iron work and a bold Victorian-era paint scheme. The building was never significantly altered, although it did undergo a significant mechanical systems renovation in the late 1970s.
Preserving the original look of the interior is paramount during this renovation, but it hasn't been easy. The building is being 100 percent re-wired, but when it was built, gas sconces, not electric lights, lit the rooms. Electrical foreman Mark Voisine of Clements Electric pointed out places where the only viable alternative to run wiring has been to make notched trenches in the plaster walls, running conduit, and then covering it up with plaster. Tradespeople from Goyette Mechanical experienced some similar issues as they were given the task of replacing the HVAC system.
"Oh, she's solid," said Voisine, a member of IBEW Local 692. "This is just a nice well-built building, I will say the walls are a little difficult to work through."
Indeed the foundation walls are brick, some 31 inches thick, while load-bearing walls higher up are 18 inches thick. Subfloors are also constructed of brick and are made up of a series of arches. Since arch sections maintain their strength by remaining in contact with each other, it makes it difficult to gauge what bricks can be taken out for new mechanical installations, while maintaining the integrity of the structure.
"It's a key brick system, it holds the flooring together. Take out too many and you comprise the integrity of the floor," said Ken Pawlak, project superintendent for ServPro.
With all that going on behind the walls and under the floors, the building's surface plaster is also getting plenty of TLC by craftsmen from Russell Plastering and Operative Plasterers and Cement Masons Local 514. Over the course of this project plasterers, commuting from the Detroit area, made molds of existing ruined plaster, then created replacements. They will smooth over walls that have holes or notches. But in some cases – like at the very top of the building in the main chamber ceiling, original plasterwork is being recreated by steady hands.
"We're doing all these lunettes by hand," said Russell plasterer Pat O'Shea. "It's a challenge. You just need to look carefully at what you're doing. But I will say, it's nice to be able to do this kind of work for a change, and not have to work in a flat world. Working here, you get to appreciate the original craftsmanship – it was fantastic, what they were able to do with the tools they had."
Key to the plasterers' work is the impressive, omnipresent scaffolding that allows the tradespeople to safely do their work in far-flung heights and corners of the building. About 15 Hardhats were on the project late last month.
Acting City Manager Dana Muscott, who is overseeing the $10 million renovation for the city, said she had worked in City Hall 10 years before the fire and deluge, and has a lot of affection for the building. "We're working with an historic architect (Quinn-Evans) and we're confident we're putting the building back to the way it was," she said. Original chandeliers that were taken out in the past are being replicated. Doors are being replaced to replicate originals. Vertical blinds – certainly not original – are also being removed.
"A tragedy pushed us into doing the updates and putting more historical elements back into the building," Muscott said. "The work of ServPro, the contractors and tradespeople has been very good. We're very pleased."
Schwering said the project is on track for completion in November, just over three years after the fire. He said the project has taken so long due to numerous factors: the involvement of an insurance settlement, taking pains to preserve the historic nature of the building, the involvement of city leaders sorting out what steps to take, and then making an additional commitment to re-wire the building, repair plumbing and upgrade the HVAC system.
"We've been fortunate to get Russell Plastering on this job," Schwerin said. "They've been great, but really, all the tradespeople have been great. We've been really happy with the work we've seen. We knew all along that we'd have some issues, but really, there have been no major surprises."
SETTING A LIGHT fixture on the fourth floor atrium of Bay City's City Hall is Tom Billings of IBEW Local 692, working for Clements Electric.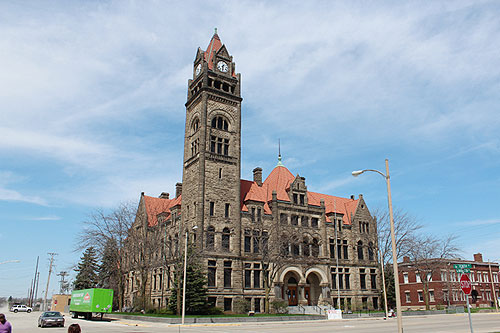 BAY CITY'S City Hall was built in the American Romanesque style between 1894-1897. The landmark structure's interior is being renovated after being severely damaged by sprinkler water which put out a fire.
YOU WOULDN'T KNOW IT, but Pat Shea of Operative Plasters and Cement Masons Local 514 and Russell Plastering is working on restoring a "lunette" – at ceiling height – in Bay City's City Hall, atop an elaborate scaffolding set-up.