KOCHVILLE TWP. - Saginaw Valley State University is making more room to educate tomorrow's business leaders, with a $25 million expansion to house the school's business college.
Construction Manager R.C. Hendrick and Son Inc., its subcontractors and the building trades are about one year into a project that will expand the SVSU Scott L. Carmona College of Business by about 38,500 square feet.
The expansion "will create additional space to house the academic college's classrooms, faculty offices and business programs," SVSU says. "The new space also will include state-of-the-art technology such as analytics labs and a Bloomberg Trading Room, which tracks stock data in real time." The project will also "provide hands-on learning opportunities for students while also encouraging members of the business community to visit campus and engage with students."
Hendrick and Son Project Supt. Mike Hammis said about 55 tradespeople were toiling on site in late August, and that may ramp up to about 70 at peak employment. The project is slated for completion in June 2020. Hammis offered that a familiar woe is slowing the SVSU project - the same that's delaying a number of others across Michigan - a lack of manpower among some trades.
"We're a bit behind schedule, with the manpower shortages and the terrible wet spring that we had," Hammis said. "But we're still optimists, we're doing what we can to move forward by building out of our normal sequence with the availability of trades that we have. We'll get it done."
Constructed on the site of a former empty lot, the three-story business college expansion connects to the existing Malcolm Field Theatre for Performing Arts, near Curtiss Hall, where faculty offices for the College of Business of Management are located. An interior third-floor bridge constructed nearby in the Groening Commons aids pedestrian flow at the site.
Hammis said some tie-ins to the existing commons building have already been made, and the contractors and trades on site are working hard to be minimally disruptive to the ongoing academic environment. "Overall the trades have been good to work with," he said. "We're the biggest project currently going on campus, and we're putting up another nice building."
The new building will be a key point of prestige for the school's College of Business and Management, which is accredited by AACSB International, placing SVSU in the top 5 percent of business schools worldwide. SVSU said included among the 28 academic programs are specialized opportunities that draw upon the unique business resources of the Great Lakes Bay Region, such as academic minors in entrepreneurship and family business management. SVSU hosts the Dow Entrepreneurship Institute and the Stevens Center for Family Business.
The new space will provide room for students to learn using financial technology; an innovation lab; a cross-disciplinary space where students can develop products and market solutions; a communications, big data and cloud computer lab to allow for the management of diverse sources of unstructured data and cloud computing, as well as a consumer behavior lab with observation rooms to study what influences consumers' decisions and to allow faculty and students to conduct qualitative research.
"This is tremendous news for our enterprising business students and faculty, and for the regional business community," said SVSU President Donald Bachand, during the project's groundbreaking ceremony. "Innovation drives business profitability, and this new facility will allow us to further innovate our strong business curriculum and promote the collaborative learning and problem-solving that fuels the modern economy."

A MAJOR NEW EXPANSION to the Saginaw Valley State University's Scott L. Carmona College of Business is being undertaken by construction manager R.C. Hendrick, its subcontractors, and building trades union workers. SVSU President Donald Bachand said the new space will allow the university to improve its already strong business curriculum.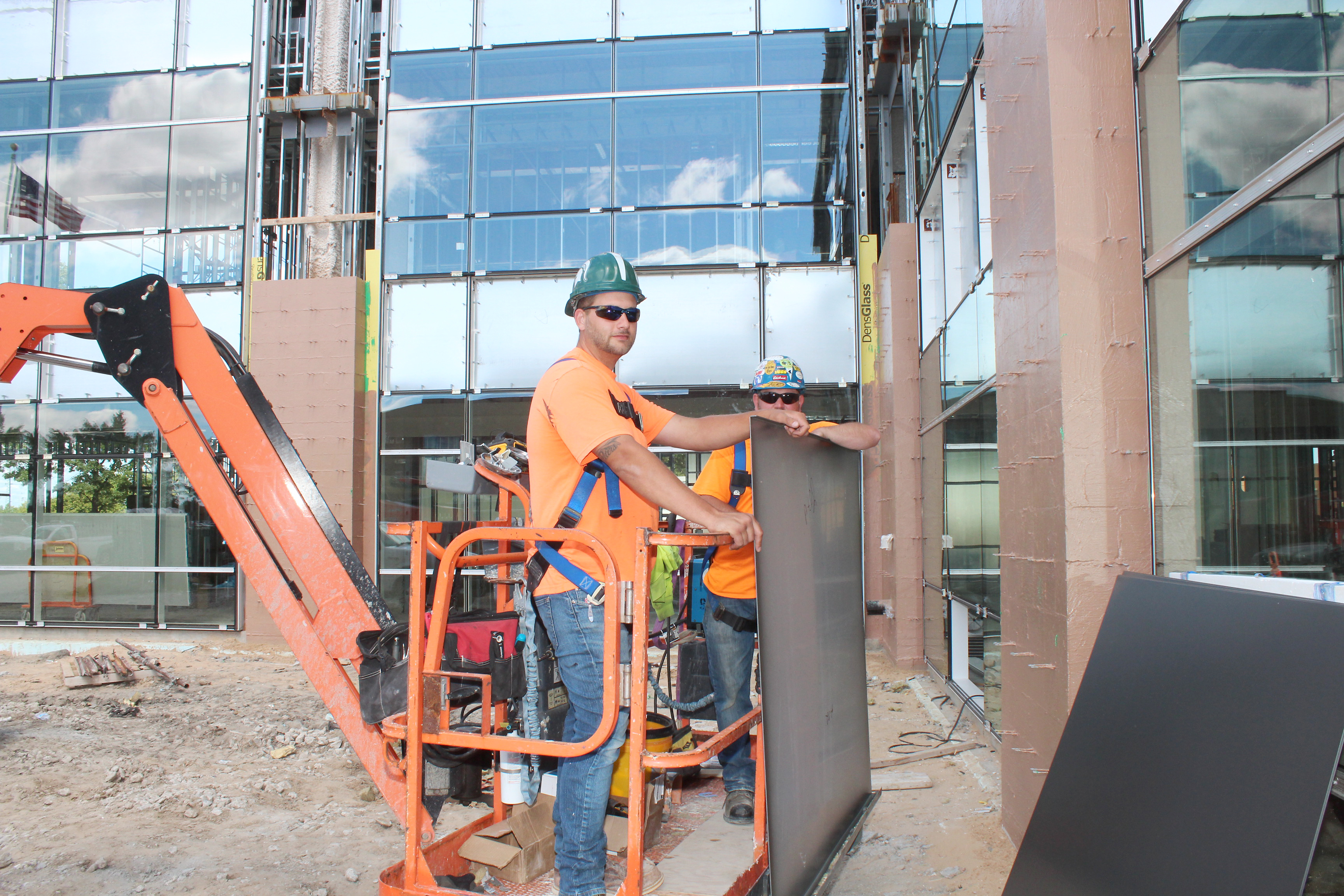 READY TO LIFT a pane of glass at the SVSU Business College expansion project are Brad Peters and Matt Smith of Glaziers and Glassworkers Local 826. They're employed by Glazing Solutions.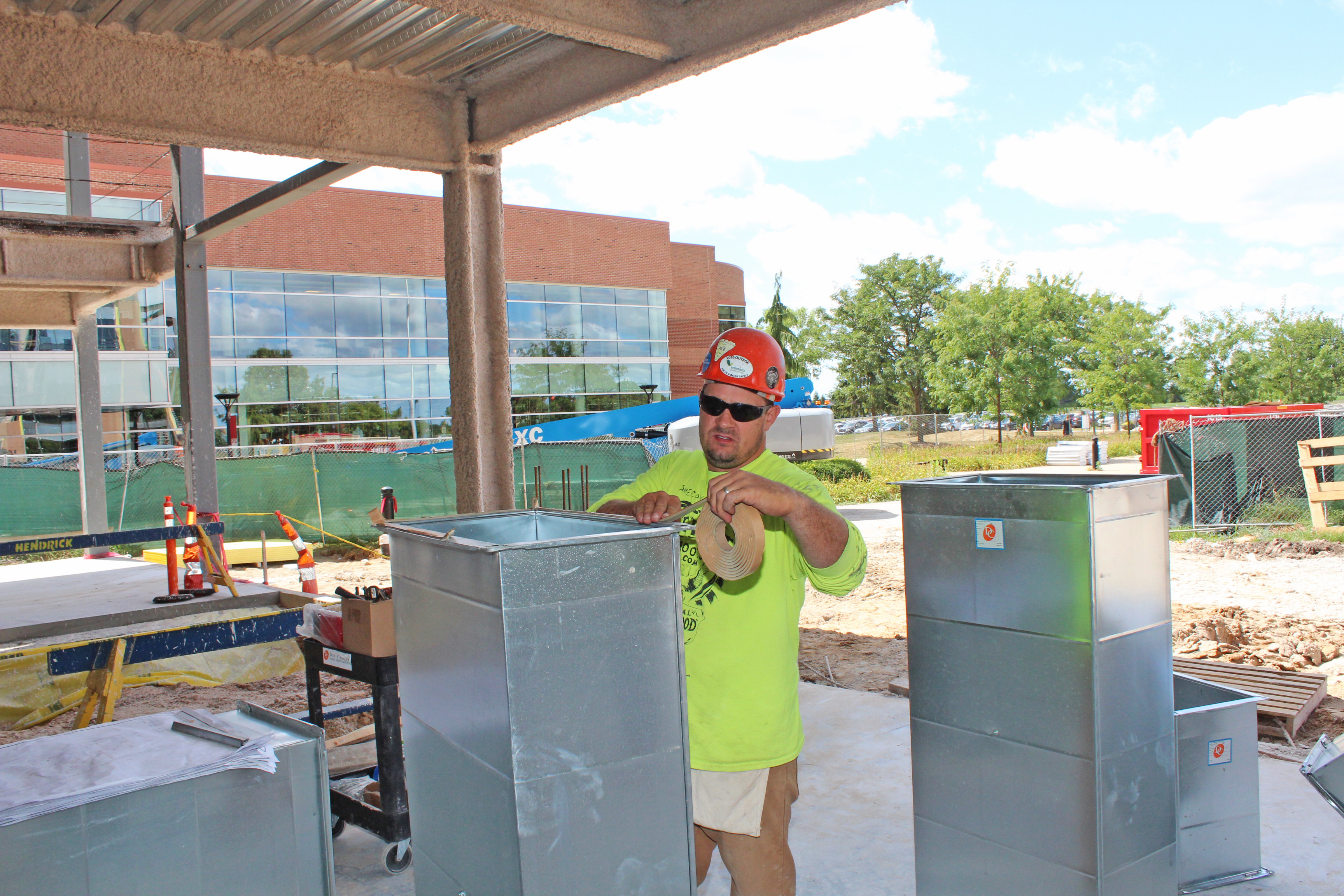 SEALING SUPPLY DUCTS at the Saginaw Valley State University's Business College expansion project is Richard Miller. The Sheet Metal Workers Local 7 member is employed by Dee Cramer.