DETROIT – Since 1988, the once-grand Michigan Central Station has sat unused, often open to urban scavengers, and looming over the Corktown area in southwest Detroit as a hulking symbol of the city's decline.
Now, the city's most visible empty landmark is finally getting a measure of tender loving care from the building trades, although there is little near-term expectation that the building is on its way back to re-use as a train depot, police headquarters (as once envisioned by the Kilpatrick Administration) or any other purpose. One proposal making the rounds is that the exterior of the building can be used to display outdoor movies for people in Roosevelt Park in the front of the building.
What the train station and 18-story tower are getting is the abatement of hazardous materials, new roofing and a facelift that will come in the form of new windows.
"We're planning to replace the roofs and put windows in it," said Dan Stamper, president of the Detroit International Bridge Company (which owns the depot) to Fox 2 News. "We believe the building's worth saving. We're doing everything we can to do that.
"It's very easy to tear stuff down. I mean, you find a contractor, get a bid, signed check and pretty soon it's gone. That's easy. Trying to save some of these beautiful buildings is a lot harder and a lot more work and a lot more investment," he added.
So it's a great sign for preservationists that the depot, constructed in 1913, is getting some money put into it that doesn't come cloaked in the dreaded "preparing it for demolition" vernacular. Hazardous material abatement will almost always precede demolition of old buildings these days, but that doesn't seem to be the case here.
Last month, a crew from Professional Abatement Services represented by Asbestos Abatement Workers Local 207 and Laborers Local 1191 were moving around the depot's exterior on man-lifts removing what remained of the window glass, as well as the asbestos-laden caulk around the windows frames.
"We've been knocking out lots of glass over the past few weeks," said Dave Bennett, foreman for Professional Abatement Services. "Every window in the building was pretty much broken out, but at this point I think we got it all out where we're working."
The depot has been thoroughly scavenged over the years, and the once-opulent interior is now a wreck. Graffiti covers numerous surfaces in the first floor's grand hall, and most marble, tile and other finish surfaces have been removed or destroyed.
The abatement workers began toiling at the depot on June 6, with their contract including the cleaning of lead-based paint and caulking from the first floor and mezzanine windows, and clearing those interior areas of debris. The station's original wood window frames are being hand-scraped down to their original surfaces.
Where there are metal window frames, the crew of 8-12 is using a relatively new method to remove paint and caulk. Bennett called the system a "dry ice blaster" that's similar to sand blasting, except dry ice pellets that come in 500-lb. tubs are used instead of sand.
"It's an amazing new process," Bennett said. "With sand, you have to tarp everything and clean up 2,000 pounds of sand a day. Not with this. Basically the dry ice explodes and evaporates what we want off the building."
Bennett estimated that the initial phase of the project would take most of the summer. He said beyond the windows, there is ample hazardous material abatement that is likely needed in the rest of the building, including pipe coverings with asbestos, and floor tile on every level that's also likely asbestos based. And, he said the depot's basements are filled with water.
"It's a good project," Bennett said. "I've driven by this place my whole life and hoped they would do something with it, and now things are happening, and I'm first on the job."
Michigan Central Depot was built on the western edge of downtown in an era when rail traffic was king and auto traffic was in its infancy. It was expected that Detroit's downtown would spread to the depot, but the expansion never came. The depot was built for streetcar traffic to drop off travelers – only a single lane looped as drop off spot next to the building for cars or carriages.
More than 200 trains a day passed through the station during World War 1, and the depot was similarly a hub of activity during World War II and into the 1950s. But by the 1960s and 1970s, rail passenger traffic was dropping significantly, and the huge depot provided more room than what was needed. The depot was closed after the last Amtrak train to Chicago left in January 1988.
The Buildings of Detroit website says of the depot: "Even during construction, Michigan Central Station was an object of great civic pride. The design reflected a return to classicism and romanticized transportation. The station created a majestic setting for passengers, many of whom had come to associate train stations with soot, smoke and noise. And the sheer mammoth proportions of the station was meant to be awe-inspiring and make a statement to travelers about the greatness of the city in which they were arriving and the railroad they were arriving on.
"Today, the monolith still stands as a towering, heartbreaking testament to the grandness of the time before the automobile – and the way American life changed after it."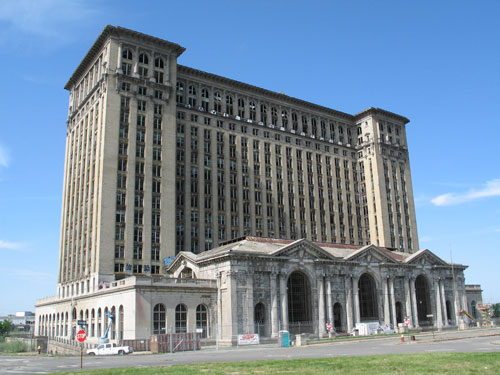 STILL STANDING, in good part because it would cost a small fortune to tear down, the Michigan Central Depot in Detroit is probably the city's most photographed ruin. Built in 1913, the former depot, said a New York Times article from 2010, "is in a class of its own. Some city officials consider it among the ugliest behemoths to pockmark Detroit and have ordered its demolition, but others see it as the industrial age's most gracious relic, a Beaux Arts gem turned gothic from neglect but steeped in haunting beauty." And while a full renovation is not in works, it is getting a bit of a clean up and new windows.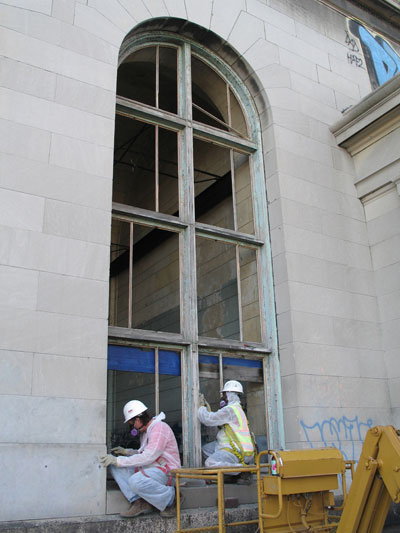 HAND-SCRAPING paint and caulk from a wood-framed window at the Michigan Central Station in Detroit are Josh Walker and Michael Warren of Asbestos Abatement Workers Local 207, working for Professional Abatement Services.