WARREN – The Sheet Metal Workers Local 80 Training Center was scrubbed and polished, and materials and tools of the trade were put on display for an open house held May 31.
The effort was designed to put the facility's best foot forward for more than 100 invited guests, which included politicos, high school counselors and instructors, contractors and other industry representatives.
"We have a large variety of people in the room, and the purpose of our open house is multifold," said Local 80 Training Director Richard Flood to attendees. "We want to show how we operate, explain our apprenticeship program and to promote our contractors."
Several high school trade instructors in attendance made it clear that their eyes were opened by the training center visit. One remarked that Local 80 could improve its outreach efforts, and Flood said such an effort is in the works. He said the program prefers to add about 15 apprentices every six months. "We need more people to sign up to take the apprenticeship exam," Flood said. "That's another one of the reasons we're having the open house."
The event, which ran from 10 a.m. to 3 p.m., included tours, service, welding and architectural demonstrations. Vendor displays were made by SET Duct Manufacturing, Mobile Air, Michigan Air Products and Conquest Fire Spray. The Local 80 Training Center, encompassing 20,000 square feet, houses classrooms, multi-media rooms and drafting, welding and sheetmetal shops. The facility was dedicated in 1977, and features the first "straight air" solar heated system in Michigan. The system is still a training aid for students.
Local 80 Business Manager Mark Saba said with the state's right-to-work law in effect, "we're going to be seeing a lot of unskilled workers coming into our state. So our training center will be very important going forward to assure the proper training of people in our industry. With our efficiency, productivity and above all, quality, we will always stand alone on top of the industry."
A self-described "strong opponent" of right to work, Warren Mayor James Fouts was invited to speak and told attendees that "the strong standard of living today we have is because of the unions. He said he "was amazed by the list of impressive class offerings here. This training center is an example of getting workers good-paying jobs and ready for the job market."
One of those grads is Chris Wilson, who completed the Local 80 apprenticeship program in June 2012, and is now in his sixth year in the trade, employed by Ventcon. "Since I've been here the opportunities keep revealing themselves," he told open house attendees. "You can own a company, manage a project, work as a detailer. I can go in any direction, and if I want to improve myself along the way I can come back and take night classes."
Tony Asher, the Sheetmetal and Air Conditioning Contractors National Association-Detroit general counsel, predicted that trade unions would come "roaring back," with customers realizing that "it's not what you pay, it's what it will cost you" if a job isn't done right the first time.
He said his law license is only recognized in Michigan, but a journeyman's license "gives you the ability to work your trade anywhere in the country, or the world."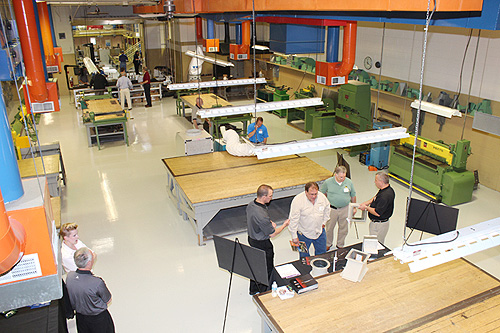 SHEETMETAL Workers Local 80's fabrication shop on the day of the open house.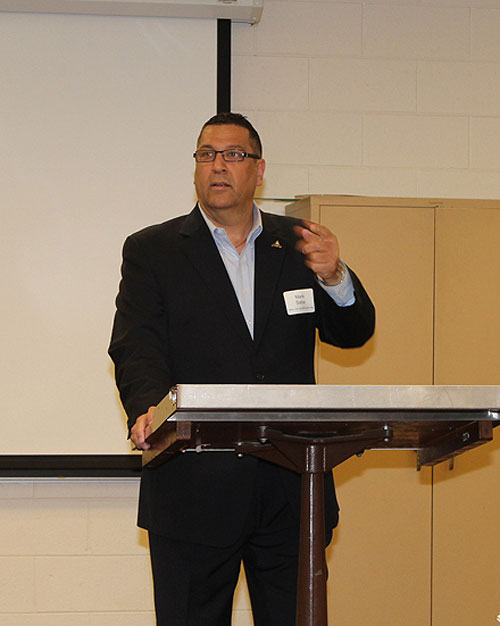 LOCAL 80 Business Manager Mark Saba makes a point while speaking at the open house.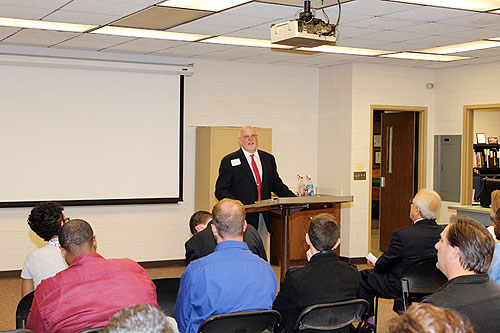 Local 80 Training Director Richard Flood talks about the union's apprenticeship program.