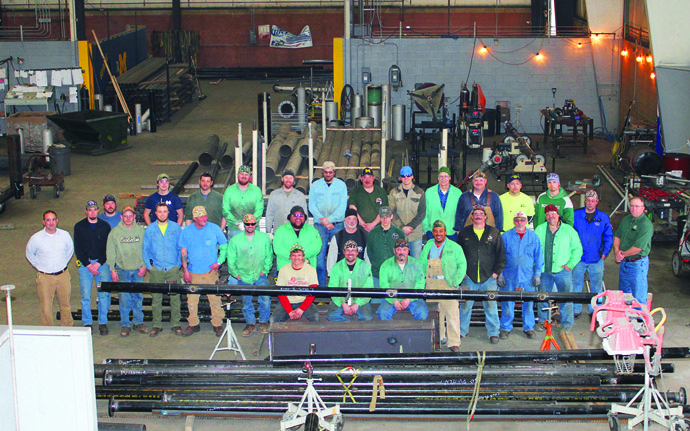 SAGINAW - Carbon steel, copper, stainless, plastic, alloy... from a half-inch circumference up to 72 inches - the workforce at John E. Green's fabrication shop have processed just about every pipe in the piping industry's playbook.
Since it opened in 1999 near the Zilwaukee Bridge, the shop has been a steady employer for Plumbers and Steamfitters Local 85 members, who provide top-quality, Michigan-made work for all manner of customers in and out of state.
"Times are good, and we have a fairly comfortable back-log of work headed into 2015," said Saginaw Branch Manager Jason Essex. "We expanded the shop from 15,000 square-feet to 25,000 square-feet in 2009, and now we've added a second shift. We're particularly proud of our workforce who bring everything together; Local 85 is a great resource for talented people."
Essex said the majority of their current piping products are for the chemical and automotive processes, along with some for HVAC applications. The shop is currently working on pipe headed to Dow Chemical, Dow Corning, the Central Michigan University BioScience Building, Hemlock SemiConductor, Sensient Foods in Harbor Beach, the new Bay City Water Treatment Plant, GM plants in Milford and Warren, and a Ford Motor Co. plant in Kentucky.
The presence of Dow Chemical up the road in Midland has kept Local 85 and John E. Green on their toes when it comes to new piping applications. "We've been serving Dow Chemical and its subsidiaries for a long time, many decades, and they always have a need for new, exotic metals in their applications," said shop Supt. Tim Prast. "So we're used to changes, and meeting whatever needs they have."
The shop currently employs 43 pipe fitters working on two shifts, and it's the first time in five years that a second shift has been employed. John E. Green has consolidated is fabrication shops and now has two, this one in Saginaw and a smaller shop in Highland Park. And often, after they fabricate the pipe, they follow it to the jobsite and install it, too.
"I'm proud of each and every worker we have working for us, and hold them in the highest regard," Essex said. "They are the best trained in the industry, no doubt, and for us, that's a selling point."
John E. Green, named for its founder, has grown from a humble plumbing and heating business established in 1909 in Detroit. Today it's one of Michigan's largest mechanical contractors, employing an office and field staff of 800 in eight offices throughout Michigan, North Carolina and Tennessee. The company has been recognized by Engineering News Record as one of the largest specialty contractors in the U.S.
Its fabrication operations hold the ASME PP and NBIC R Stamp Certificates and has the qualified welders sanctioned to perform the work. "It's not what we fabricate, but what can't we fabricate?" asks John E. Green company President Michael Green.
"Love it here," said Saginaw shop Steward Jeff Cogan of Local 85. "Great group of guys to work with, from the management all the way down. They take care of their people, and they've been a good employer of Local 85 members for a long time."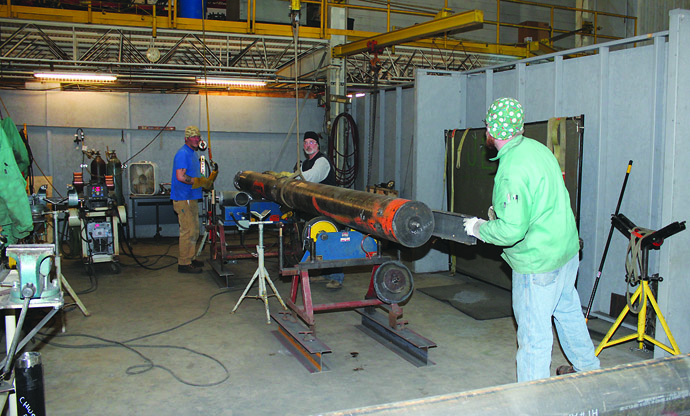 SETTING UP A WELDING project on a "roller" at the John E. Green-Saginaw fabricating shop are (l-r) Ron Fisher, Jeff Cogan and Tyler Clark, all of Plumbers and Steamfitters Local 85.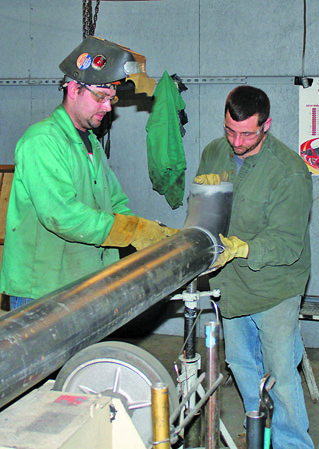 SETTING UP a six-inch carbon steel fitting for a weld are Brian Wynne and Brad Letts of Plumbers and Steamfitters Local 85.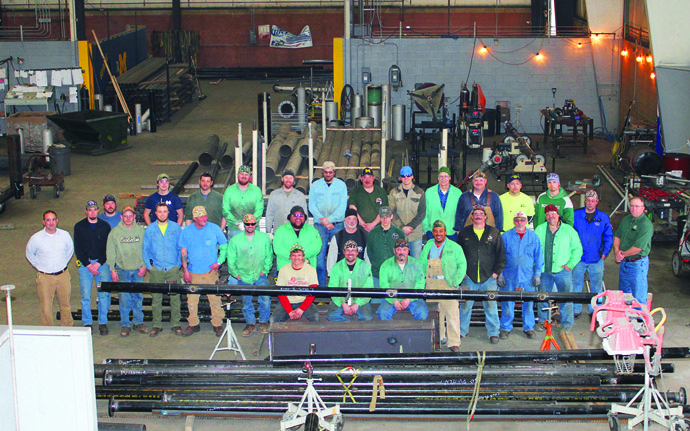 THE DAY SHIFT at John E. Green's piping fabrication shop in Saginaw gather for a group photo during their coffee break. All are Plumbers and Steamfitters Local 85 members. "It's not what we fabricate, but what can't we fabricate?" asks John E. Green company President Michael Green.