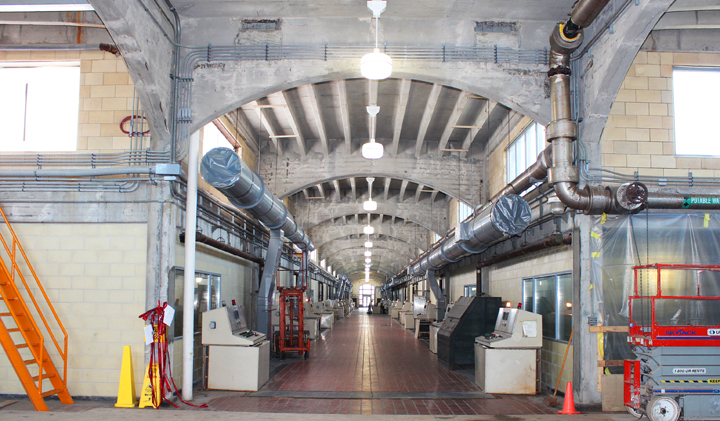 DEARBORN - When the sprawling Springwells Water Treatment Plant at 8300 W. Warren Avenue opened in 1935, it became the largest water treatment facility in the world.
Eighty years later, the plant is still huge: set on 53 acres, it's the world's 10th largest water treatment plant, with a capacity to pump 540 million gallons of water per day. These days there are a number of Hardhats at the plant, which is currently undergoing a three-and-a-half-year renovation project that will address some major deferred maintenance and upgrade needs, both in the water processing systems and in the buildings that contain them.
The Walsh Group is overseeing the entire $80 million project, while subcontractor FM Sylvan Inc. is handling the extensive mechanical portion. For the pipe trades workers on the job, the stakes couldn't be higher: the Detroit Water and Sewer Department plant provides drinking water to millions of people, and there's little room for error when critical pumps and other systems are being replaced.
"As plumbers, when we get our journeyman's license, we swear to uphold the Michigan Safe Drinking Water Act," said George McGuckin, of Plumbers Local 98, Sylvan's estimator and project manager. "This project really puts that to the test."
Perhaps the most critical example of this, McGuckin said, is when old valves at the plant are swapped for new. Crews only have 12-hour windows to replace the valves - if pressure in the system is suspended for any length of time, the system is susceptible to a high risk of cross-contamination. Plus, like with any plumbing job, he said great care has to be taken not to damage existing fixtures adjacent to the new work.
The Springwells plant was opened in 1935, and then expanded to meet the region's burgeoning population in 1958. Much of the plumbing work on this project focuses on upgrading pipes, pumps, and related systems. Plumbers and pipe fitters on the project are replacing old ductile iron pipe (with new ductile iron pipe), replacing valves and pumps, and upgrading filtration systems. Electricians are also on the job installing new controls and associated wiring, and sheet metal workers are on hand as well, running ductwork so the plant can have multiple air exchanges per hour. Pipe Fitters are addressing the installation of much-needed heating and cooling systems throughout the plant's service tunnels, multiple buildings and eventually the boiler house.
The project is also addressing building infrastructure needs: the constant high humidity in the plant is a killer for electronic control systems, so an HVAC system is being installed. Masons are hard at work rehabilitating the exterior. New windows and doors are being installed. Hazardous materials like lead and asbestos are being removed.
Walsh Project Manager Daniel Fish said the unique nature of the plant brings about a number of construction challenges. For one, there's the retrofit of old ductile iron fittings with new fittings for the plant, which can bring some difficulties related to material flexibility and quality. That can translate into difficulty matching up worker schedules with material delivery. And, the task of squaring old work, and old blueprints, with new work is one fact of life that may never go away for present and future tradespeople toiling at the plant. "Every day, we run into things that according to the plans aren't supposed to be in a particular place, but are," Fish said.
He said in the 1930s, the plant's designers "embedded a lot of mechanical and electrical infrastructure, so we often have a lot of locating to do." This project has employed the use of x-rays and ground-penetrating radar to detect locations of pipes, fixtures, utilities and wires that might now show up on the blueprints.
Beyond that, Fish said it's often impossible to replace an entire mechanical system, such as a steam and condensate in the plant's HVAC system. So, new parts get installed onto 60- or 80-year-old parts, which is not ideal but necessary due to budgetary constraints.
Fish said the project has recently been employing about 40 building trades workers, and they have been doing a good job managing all the challenges the plant has to offer. "We have a meeting once a week with the trades, to determine if there are any issues related to quality or workmanship or anything else," he said. "We've had a great relationship with the trades on site; they've been top-notch."
Not much has changed at the plant in the way it takes in, treats and distributes what is purportedly some of the best-tasting water in the country. Water is pumped into the plant via 12 miles of tunnels up to 16 feet in circumference from an intake near Belle Isle in the Detroit River.
According to the DWSD, the water moves through traveling screens with 3/8-inch openings which catch debris, fish and other small objects not removed by coarser gates at the intake. (Any fish entering the systems are returned to the river or lake). Pretreatment begins with screening and incorporates chlorination to disinfect the water. Low-lift pumps raise the water to a level where it can flow by gravity through the various treatment stages.
The water flows to a basin where alum is added, causing suspended particles in the water to pull together into larger particles. The water then moves into the flocculation basins, extending the mixing process and causing suspended particles to form into larger particles called "floc" in preparation for the settling process. The water then enters large settling basins where about 90 percent of the floc settles out. The water then passes through filter beds of charcoal, sand and pebbles to remove the remaining particles. This "polishes" the water and serves as a barrier to strain out any remaining matter. Regularly, treated water is pumped through the filter beds in the reverse direction to wash out any entrapped particles. Chlorine and flouride are added, and that water is pumped to storage reservoirs, ready for distribution and then for drinking, flushing or for use in water balloon fights.
McGuckin said the project offers pipe trades workers a unique opportunity to see how old systems work, and how to match up the old with the new. Pipes on site at the plant range from one-half inch to 36 inches. He said in areas where lead caulking seals old ductile piping connections - and new work had to be retrofitted - they obtained a state variance to again use lead caulking on the new work: because it's still an ideal material for the job.
"I have enjoyed it here," McGuckin said, "It's a big, important plant for the region. And this kind of work only gets done every 50-plus years, so this is likely going to be the only water treatment plant we're ever going to work on in our careers."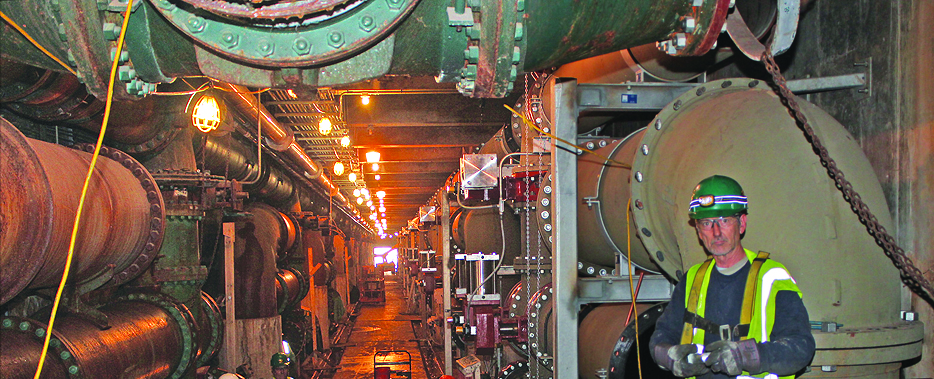 WORKING IN THE aptly named "Pipe Gallery" at the DWSD Springwells Water Treatment Plant in Dearborn is Craig Walton of Plumbers Local 98. He's employed by FM Sylvan.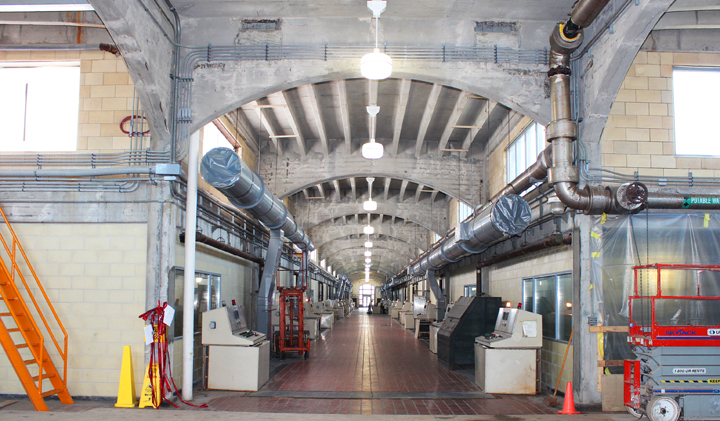 THE OPERATING FLOOR in the 1930s portion of the water treatment plant is getting new HVAC equipment, much of it intended to reduce high humidity levels which can be brutal on electronic control equipment.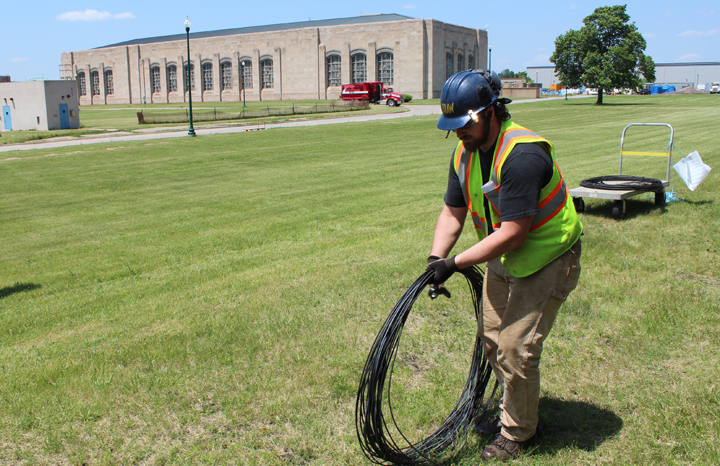 COILING WIRE used for exterior lighting at the Springwells plant is apprentice Ian McIlhargey of IBEW Local 58. He's employed by Shaw Electric. Behind him is one of many architecturally classic buildings at the sprawling water plant, this one used as a boilerhouse and for maintenance.