GWINN - Welcome aboard, Beauchamp Plumbing and Heating.
The most successful Upper Peninsula pipe trades organizing effort in at least the past decade has resulted in Beauchamp signing a collective bargaining agreement with Plumbers and Pipe Fitters Local 111, and the union welcoming eight new members who are employed by the company.
"We're really pleased to have Beauchamp with us," said Local 111 Organizer John Asplund. "They're a good company, they've been in business a long time, and they have a good workforce. What they bring to us is significant exposure to residential work, which for us has been almost nonexistent. It's a real opportunity for growth for Local 111, and it offers benefits to Beauchamp's workforce as well."
Beauchamp focuses on residential and light commercial work. Their shop is in Gwinn, south of Marquette. Asplund said having Beauchamp as a signatory contractor gives the union a shop to potentially place newly organized residential workers, should the company decide to expand. It also gives the company access to worker training and a qualified pool of workers.
The "top-down" organizing effort, Asplund said, was the result of regular conversations he had when he visited company owner Andy Beauchamp over an 18-month period. Top down organizing refers to a company owner agreeing to a collective bargaining agreement, as opposed to "bottom-up" organizing, which is when the workforce seeks a union contract. Asplund said he is aware of "horror stories" of acrimonious organizing efforts, but that wasn't the case here at all. "It was all very friendly," he said.
Beauchamp agreed. A plumber since 1992 who started the business with his dad, John Beauchamp, he said the company's signatory relationship with Local 111 began in August and offers the workforce a number of benefits. "I guess the biggest thing when it comes down to us joining with the union is the health care," he said. "And really, the whole benefit package, with the retirement package, is appealing."
Beauchamp's workforce performs service and retrofit work on heating and cooling and refrigeration systems, as well as drain clearing and cleaning. "From a business standpoint, we're also looking forward to getting access to training, which is a big part of this, too," he said. "And down the road, access to qualified workers would be great if we start to bid on bigger jobs."
Asplund said with the general lack of union density in the area and lack of awareness about what organized labor is and does, there was a bit of a learning curve for Beauchamp's workforce about collective bargaining and what the union could do for them.
Beauchamp, who continues to work with the tools, said he had to overcome his own doubts, and there was some apprehension from his workforce about joining the union, mostly centered around the cost of union dues vs. the benefits received. He said his workforce was actually making more on the check before they joined the union.
One of Beauchamp's employees, journeyman plumber Aaron Jacob, 38, said he was surprised that Andy Beauchamp would want to affiliate with Local 111; he assumed that "owners are usually kind of leery" about having their workforce becoming unionized.
"Change can be scary, but all in all things seem to be going all right," Jacob said. "To tell you the truth, I haven't noticed much difference. I still go to work every day like usual, and there's a little less on my check, but that's the price we're paying to find good health insurance." He said he and Beauchamp have already taken advantage of a backflow class offered by the Local 111 training center. "I'm comfortable with it, so far, so good," Jacob said.
Plumbers and Pipe Fitters Local 111, with offices in Marquette and Escanaba, is the result of the amalgamation of what had once been six Upper Peninsula local unions affiliated with the United Association of Pipe Trades. The union is led by Business Manager Michael Hares and Business Agent Dean Gutzman. Local 111's charter covering the entire U.P. was granted on June 1, 2007, and it currently has a membership of nearly 500, including about 40 apprentices.
"I think when we looked at everything, the lower cost of the benefits offered by the union took away the doubts," Beauchamp said. "And plus in general, I think we appreciate being part of something bigger, to be part of an organized group that wants to learn and perform better on the skill side, and cooperate in a way where everyone is working toward a common goal."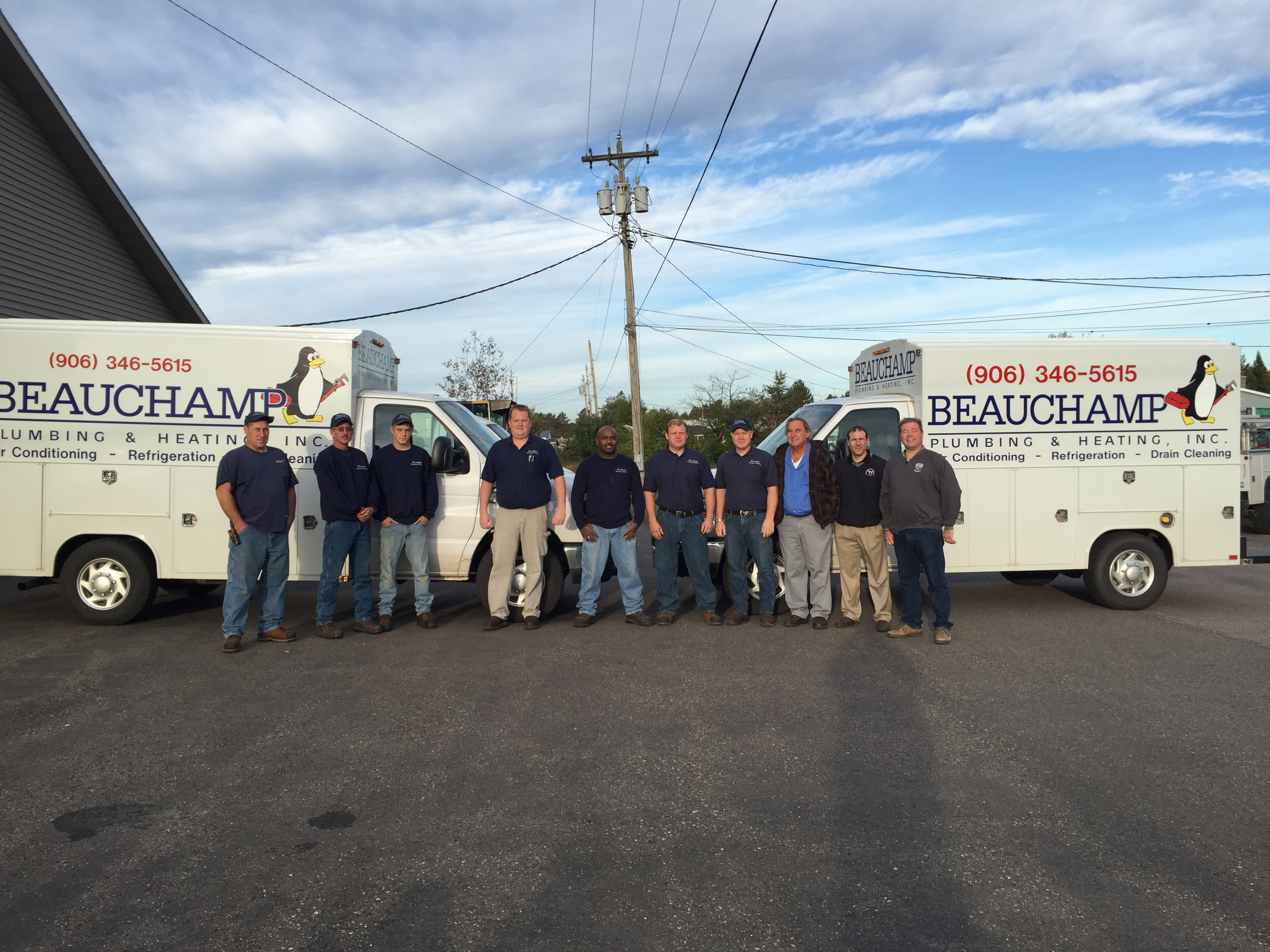 BEAUCHAMP PLUMBING and Heating employees have been organized into Plumbers and Pipe Fitters Local 111. They include (l-r) Mark Rittenger, Bob Richardson Sr., Bob Richardson Jr., Matt Greer, Romondo Risper, Aaron Jacob, and owner Andy Beauchamp. With them are Local 111 Business Manager Mike Hares, Business Agent Dean Gutzman and Organizer John Asplund.