ANN ARBOR – Year Two was even better than Year One for IBEW Local 252, when it came to raising money for breast cancer research at the University of Michigan Comprehensive Cancer Center on Oct. 30.
Last year, IBEW Local 252 apprentices started a program called Union 4 Life, donating $6,000 to help fund breast cancer research at U-M. This year, the group was a bit more ambitious, and a big check amounting to $13,000 was handed over to the U-M cancer center.
IBEW Local 252 Electrical JATC Training Director John Salyer said university researchers Dr. Sofia Merajver and Dr. Daniel Hayes gave the group an hour-long presentation detailing what the money allows them to do.
"These funds," Salyer said, "are used as a primer to jump start a new research treatment before grants can be attained. So our donations along with others allow them to go into areas of research that might not otherwise have the funds to start. We were also excited to hear about the advances that have already taken place. So again many thanks to all the union brothers and sisters for their help in this fight."
Salyer sent a special thanks to the Washtenaw County Skilled Building Trades Council and the Huron Valley Central Labor Council for their support of Union 4 Life. Funds were raised this year at a golf outing on Aug. 23 and at a 5K run on Oct. 4. Next year, a poker run will be added to the slate of fundraising events.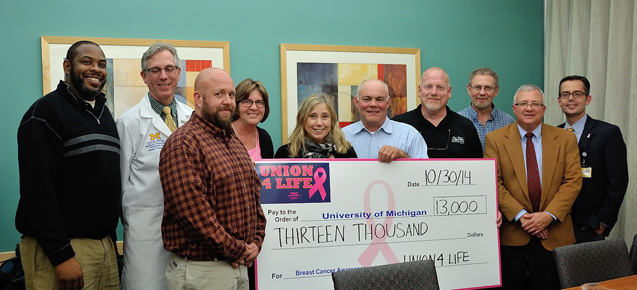 GATHERED 'ROUND the Big Check to help fund breast cancer research at U-M are (l-r) IBEW Local 252 apprentice Geoffrey Morning; University of Michigan Hematologist/Oncologist Dr. Daniel Hayes; Local 252 Apprentice Harry Hutchison; U-M Professional Nurse Council's Sharon Baker; U-M Professor of Internal Medicine and Epidemiology Dr. Sofia Merajver; Ann Arbor Electrical JATC Chairman Mike Koch; Ann Arbor Electrical JATC Training Director John Salyer; Huron Valley Central Labor Council's Ian Robinson; IBEW Local 252 Business Manager Tim Hutchins, and U-M Assistant Director, Fundraising Events Jason Keech.