Union pension funds are once again being put to work to put union members to work, this time at the $14 million Whispering Woods Plaza in Brownstown Township.
Ground was broken Nov. 2 on the 93,000 square-foot shopping center at Gibraltar Rd. east of I-75 and Gibraltar Rd., which will be anchored by a Kroger store and will feature a Blockbuster Video store, a Hallmark card store and other retail tenants.
The project is the effort of First Commercial Realty and Development Co. Bank One is financing the project with equity financing by the Build Fund of Bloomfield Hills. Numerous union pension funds are contributing to the project.
"It took vision by the pension funds, labor and management to put this program together," said The Build Fund's Tim Nichols, former secretary-treasurer of the Michigan Building Trades Council. "This project will be an asset to the community, provide good-paying jobs to workers and improve the tax base. We look forward to future groundbreakings."
First Commercial President Bill Watch said the actual groundbreaking on the project would take place next month, with the Kroger store sscheduled to be completed in September. He said plans are for 165 homes to be built behind the project.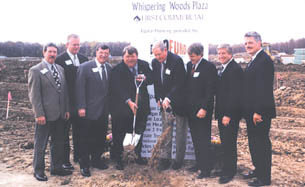 BREAKING GROUND at the Whispering Woods development in Brownstown Twp. on Nov. 2 are (l-r) Pipe Fitters 636 Downriver BA Dick Dunn, The Build Fund's Tim Nichols, Michigan Building Trades Council Sec.-Treas. Tom Boensch, Laborers IU Rep. Bob Pilarski, Brownstown Twp. Supervisor W. Curt Boller, Bill Watch of First Commercial, Rick Ragsdale of Kroger and Warren Terrace, First Commercial.