STERLING HEIGHTS - The founder of Play Place for Autistic Children calls the facility a "haven of hope" for families affected by autism.
And members of Michigan labor unions and their affiliated contractors are helping make that hope a reality, by contributing time, talent and materials to build out interior walls and fixtures, electrical, plumbing and HVAC system into the facility.
"They reached out to us to help them, and a lot of our people, mostly retirees, really stepped up to the plate to help," said Charlie Taormina, Local 80's marketing representative. "A lot of people gave a lot of time out of the kindness of their heart to help make this center happen."
Bob Makowski, a retired union carpenter who has coordinated much of the project since April, said "it just makes my heart feel good to be doing this. To provide a place where these kids can go and be themselves without having anybody pointing or staring at them - and everybody else understands and knows what's going on - it's just so cool."
The nonprofit Play Place is located in a converted 25,000 square-foot former engineering building, and is the dream of Shell Jones, the mother of a 12-year-old autistic son who didn't see any other support facilities for families with autism. She said this project started as a "small vision of a room with swings," after seeing how her son was stared at and treated differently by others at playgrounds or at places like Chuck E. Cheese.
"This journey started when I thought, what could be done for him, and I would talk to other parents of autistic kids and share stories," Jones said. "We had kind of the same stories - I found out that my son wasn't the only one who had never been invited to a Halloween or birthday party - and that was when the light went off. It felt good to know we're not the only ones in this situation."
Jones began researching facilities where autistic people and their families could play, learn and socialize, and found "there is no place in Michigan or anywhere else that is doing what I'm doing," she said. "I thought, why not make a place where kids can be active, learn, get socialization and therapy? So what we're building here is a place that is the result of my own vision, and getting ideas from other parents."
She found the building, with high ceilings to accommodate swings, bouncers and other physical activity for autistic people of all ages. The landlord took down the interior walls so that a new setup could be designed. For funding, she wrote her own grant proposals, and asked for donations of time, material and expertise from contractors, suppliers, and union trade representatives. She said she has come across numerous people who have family, friends or associates who are affected by autism.
"I put the word out and things just snowballed," Jones said. "I eventually contacted the trades to ask for some pro bono work, and some phenomenal people stepped up. Just a plethora of wonderful people. I mean they're coming in, giving of their time to do this work, and they're thanking us for providing them with coffee! That's the least we could do!"
Jones said Play Place, which she hopes to open at the end of the year, will be "fun-filled" and "judgement free," and "a revolutionary complement to the autism equation of intervention and awareness in that it embraces the entire family as opposed to the affected individual."
The facility will feature an art room, a care cell, a computer cafe, music therapy, a calming center, a playscape, a haircut hut, a bistro, and resource management for people to connect with autism-related professionals like dentists and special needs trust advisors. Just like a fitness center, visitors will be able to purchase a day pass or a longer-term membership to use the facility.
Michigan Regional Carpenters Council Business Representative Scott Lowes said he received a call from Jones seeking help, and then spread the word among tradespeople and contractor associates. "Such a great cause," Lowes said. "That's why so many people across all the trades stepped up to help."
Jones said she has had parents of autistic kids walk into the Play Place as construction has gone on, looked at what will be offered, "and they say 'yes!' They get it," she said.
Play Place, which will cost about $1.3 million to build and outfit, is continuing to seek donations of money and manpower to complete the project. To donate, go to http://www.autisticplayplace.org/.
Their address is Play-Place for Autistic Children, 41105 Technology Park Dr., Sterling Heights, MI 48314. Phone (586) 254-6533.
Makowski said he has worked nearly full time coordinating volunteers on the project, including 18-20 carpenters, even if much of the job has been on the phone. The personal satisfaction, he said, "pays you back thousands of times what you give."

UNION CARPENTERS put up walls at the Play Place.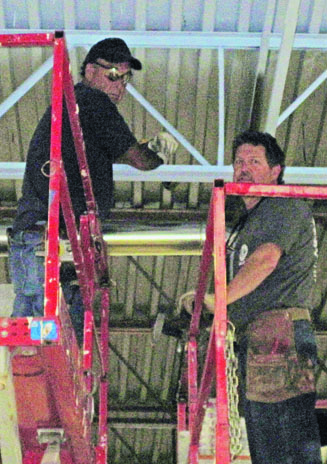 WORKING ON A LIFT at the Play Place for Autistic Children are Local 80 retirees Al Trembreth and Jim Thornton.