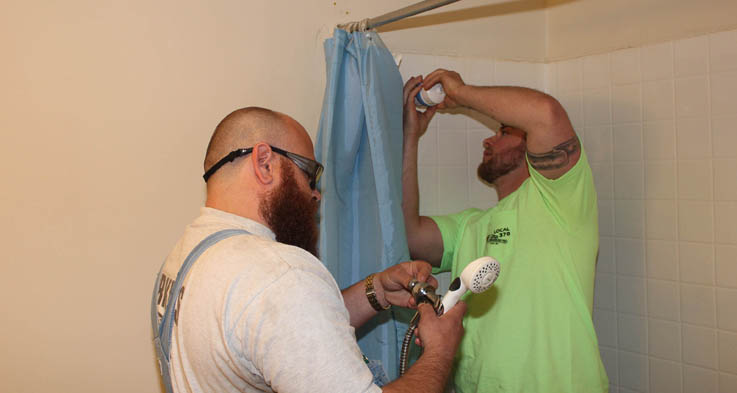 FLINT - When it comes to making the city's poisoned water safer for drinking or cooking, the focus has, of course, been on the installation of filters on kitchen faucets.
But Flint residents' other major daily interaction with the city's lead-tainted water - showering in it - has so far been relatively unaddressed by local and state officials, other than to say it's safe to bathe and shower in. But is it? The people who have reported developing rashes, bumps and other skin conditions since the city's water system was poisoned by lead would offer a different opinion.
On Saturday, May 21, a group of about 125 union plumbers, pipe fitters and sprinkler fitters from around Michigan came to Flint to do something about it. (There were volunteers present from Toledo and New Mexico, too). Their mission: install 1,000 shower filters and new low-flow shower heads (they allow the filters to work properly) in homes and apartments of Flint residents. They actually installed 700 filters that day - many residents didn't answer a knock at the door, and the remainder will be distributed by a local church. The plumbers also installed 40 kitchen faucets, replacing older fixtures that wouldn't accept filters.
The pipe trades volunteers used Plumbers and Pipe Fitters Local 370 as their base, meeting at 9 a.m. to gather their filters, fixtures and assignments. It was the second major union-backed effort sponsored by the pipe trades this year to help Flint residents: on Saturday, Jan. 30, some 470 plumbers and pipe fitters from around Michigan fanned out across Flint, installing faucet filters - and new faucets, if necessary - as well as delivering bottled water to more than 1,500 homes. That's in addition to the similar ongoing work by Local 370 apprentices during the crisis.
Local 370 Business Manager Harold Harrington told the assembled pipe trades volunteers that for the past four months, water has been tested in Flint homes, and besides high lead readings, copper and other heavy metals have been detected. "But to my knowledge nobody else has tested hot water in the showers or water heaters," Harrington said. "Yet it is being stated that bathing is safe? Based on what? A cold water sample? I don't know about you but I shower in hot water. The fact is no bathing standards exist.
"What we have seen in many of the homes we have visited over the last seven months are residents complaining of asthma, rashes, sores and hair loss that they never had before the water crisis. What is causing it? These shower filters are our attempt to help Flint residents who are experiencing these symptoms when they bathe."
The work of the volunteers was made possible by a great deal of pre-planning at Local 370, by business representatives Bruce Roth, Ben Ranger, Jeff Peake and Kevin Gaby. The volunteer teams were sent on their way with the filters, and street addresses that were grouped geographically for ease of access.
The names and addresses of those who would receive the filters were provided by Rev. Jeffery Hawkins, Sr., the pastor of Prince of Peace Church. "We are truly so appreciative of the hard work and effort you have done so far," he told the volunteers. "What you're doing right here is making a difference in the community. We made callbacks on the phone after you have visited them, and the residents start crying, they're so grateful."
Generally, the installation of the showerhead filters took only a matter of minutes on May 21. Where the installations couldn't be done because of the configuration of the existing plumbing or for other reasons, the volunteers were asked to note the address and report back, and perhaps the fixtures could be set up later to receive a filter.
The showerheads could be installed by anyone with a basic idea of how to turn a wrench or pliers. But that skill was obviously out of the question for residents of a senior citizens' home where one group of plumbers was assigned. "The showerheads and filters are not complicated to install," said Ranger to his fellow volunteers. "Most homeowners could do this without an issue. But it's good to have a licensed, skilled, professional person to do the work."
The filters, at $26.50 each, were provided at a significantly reduced cost by Global Treatment Solutions, and paid for by Local 370, which is seeking reimbursement from the United Association Charitable Trust Fund. Global President William Korreck said under normal usage for a typical household, the filters could be expected to remove lead and other contaminants for about one year. He said kitchen faucet filters generally use an activated carbon filter, and should only be used with cold water. The filters that were installed May 21, he said, employ a copper/zinc alloy to trap contaminants, and are unaffected by hot water. "We have the same concerns about the community as the plumbers union," Korreck said. "It's been great working with them."
Plumbing Manufacturers International donated 1,100 low-flow shower heads, faucets and other supplies. The shower heads alone cost $30 each. Faucet and shower material donations were made by Moen, Brasscraft, Delta, American Standard, Symmyns and Kohler.
Pipe trades unions from every local union in the Lower Peninsula were represented at the effort, including hometown Local 370, Ann Arbor Local 190, Coopersville Local 174, Detroit locals 98, 636 and 704, Kalamazoo Local 357, Lansing Local 333, Monroe Local 671 and Saginaw Local 85.
Driving in from Muskegon was Local 174's Zeb Fialek. "I just came to help support the people of Flint, and our local brothers, in getting this done today," he said. The sentiments for 15-year plumber Craig Walther of Local 333 were similar. He and his dad Steve drove in from Williamston, near Lansing. "I'm just here to help out the Flint community and the local union brothers. I know they would do the same for us." Said 39-year Detroit Local 98 member Bruce Siegel: "I helped out before, and people are in dire straits around here and they need help. It's just something I feel needs to be done."
Flint's lead-in-water crisis began in April 2014, when the city's Water Department, under control of a state financial manager, switched its supply from the Detroit Water and Sewerage Department to corrosive Flint River water taken in by the Flint Water Treatment Plant. Inexplicably, necessary corrosion control chemicals were not put into the Flint water system when the change was made, allowing lead to leach from pipes and joints and into an unknown number of Flint homes. For months, the state Department of Environmental Quality denied reports of elevated lead levels in drinking water and the blood of Flint children, but private tests indicated the presence of high lead levels, which can cause irreversible brain damage in young people.
The Flint system has been switched back to using Detroit water, but samples continue to find lead in the water, and it's not known how long that will continue. "If people see a reduction in these symptoms after using a shower filter than that is a pretty good sign it is something in the water," Harrington told the volunteers "If these filters provide any relief to the suffering of a single Flint resident then this event was a success."
Besides water bottle distribution, the efforts by the union plumbers are among the few tangible signs of anything getting done in the community to alleviate the problem. "I've never seen anything like what you guys are doing," said Genesee County Sheriff Robert Pickell. "The people you have helping have been sh-- on their entire lives, and the water situation is just another example. What you're doing is help relieve some of the stress in their lives, and I, as an official of Genesee County, can't thank you enough."

ABOUT 100 VOLUNTEERS from pipe trades unions across Michigan gathered at Plumbers and Pipe Fitters Local 370's union hall on Saturday, May 21 to install showerhead filters for Flint residents. This was the second major effort by the United Association of Pipe Trades unions to help the people of Flint, whose water has been poisoned by lead. On Jan. 30, 470 union volunteers installed kitchen faucet filters and performed faucet replacements, and delivered bottled water. International Union Representative Gary Young told the group that the event in January not only helped a lot of people in Flint, an International Union office staffer recognized it "as the single most important public relations effort ever seen by the United Association."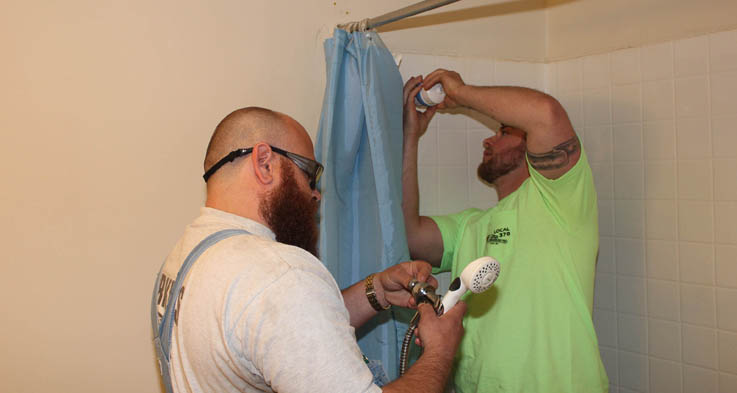 LOCAL 370 PLUMBERS Jacob Smith and Mike Czarnota install a shower filter in a Flint resident's apartment bathroom on May 21.