MARQUETE - In looking at the future of health care delivery in the Upper Peninsula, officials at UP Health System-Marquette examined their current setup at the former Marquette General Hospital and determined patients and staff would be better served with a new facility.
The existing hospital, said the ownership team, is an "amalgamation of several buildings ranging from a century to a decade old." The owners decided that instead of a renovation or another addition, a new, state-of-the-art medical campus providing easy access to an array of medical services would best serve the community's needs."


Which brings us to the fast-moving construction of a $300 million project that includes a new eight-story, 500,000-square-foot hospital, a three-story, 80,000-square-foot medical office building, and a new three-level parking deck. The new health care facility is being built on the former grounds of the Soo Line Railroad "Roundhouse," west of downtown near US 41 and Baraga Avenue.


"We're rolling right along," said Dan Balow, senior project manager for the team of Skanska-Closner. "We've got a good workforce out here, they're working safely, they're organized, and we're on schedule."


UP Health System-Marquette is an affiliate of Duke LifePoint, which says their Marquette campus will offer the community access to a diverse range of important medical services in one convenient location. The 265-bed hospital will feature round-the-clock emergency services, surgical, pediatric and behavioral health care, women's services, cancer care, cardiac care, and laboratory and imaging services.


Balow said on May 30 that the structural steel on the building would be topped out soon. He said the 300 Hardhats on the project were also working on plumbing, electrical, mechanical, roofing, drywall, brick, windows, and concrete deck pouring on the upper floors.


One unique aspect of the project is the use of an old hangar at the former K.I. Sawyer Air Force Base, south of Marquette, to house the construction of prefabricated fixtures for the hospital. That aspect of the project has usually employed five to 10 tradespeople, building headwalls (the mechanical area behind the beds) to be placed in hospital patient rooms, overhead racks holding mechanical, electrical and plumbing fixtures for corridors, as well as entire patient bathrooms, short of the finish materials.


"It's work that's being done in a safe, efficient, controlled environment," Balow said. "You don't have guys working on top of you, and all the components are consistent. So ultimately you save some time and money, and you get good quality control. It has been working well."


Components that are constructed at the Sawyer site are trucked to the hospital site in sequence via flatbed trucks. Project designers are also using 3-D modeling to keep the project on track for its fall 2018 completion date.


"We are proud to invest in the future of our communities and not only ensure, but advance the ability to deliver high quality care close to home," said David Dill, president and chief operating officer of LifePoint Health, when construction started. "This is one way we can fulfill our mission of Making Communities Healthier, and I am eager to watch this exceptional new facility come to life."


Marquette Mayor Dave Campana said "the impact this new facility will have on our community is substantial – from breathing life back into this historic part of our community to providing jobs and addressing our residents' evolving healthcare needs. The new UPHS-Marquette campus will certainly have long-lasting influences on the overall health and well-being of our region."


The new campus is "designed to blend effortlessly into the community," UP Health says, and "will reflect the natural qualities of the region with a restrained material palette consisting of glass, white architectural concrete and dark masonry."


UP Health System-Marquette will continue to occupy its current facilities at the College Avenue location until the new hospital is constructed and operational. Hospital leaders said they will continue to work closely with the city officials and the community to explore future uses of its current property and facilities once the hospital campus is relocated.


"We are incredibly proud of our progress and excited for our future," said Jim Bogan, Market President for UP Health System, which includes hospitals in Marquette, Ishpeming and Hancock. "The thought and care that has gone into this project has paved the way for a world-class facility that is truly reflective of our region and is well equipped to support our community's healthcare needs now and into the future."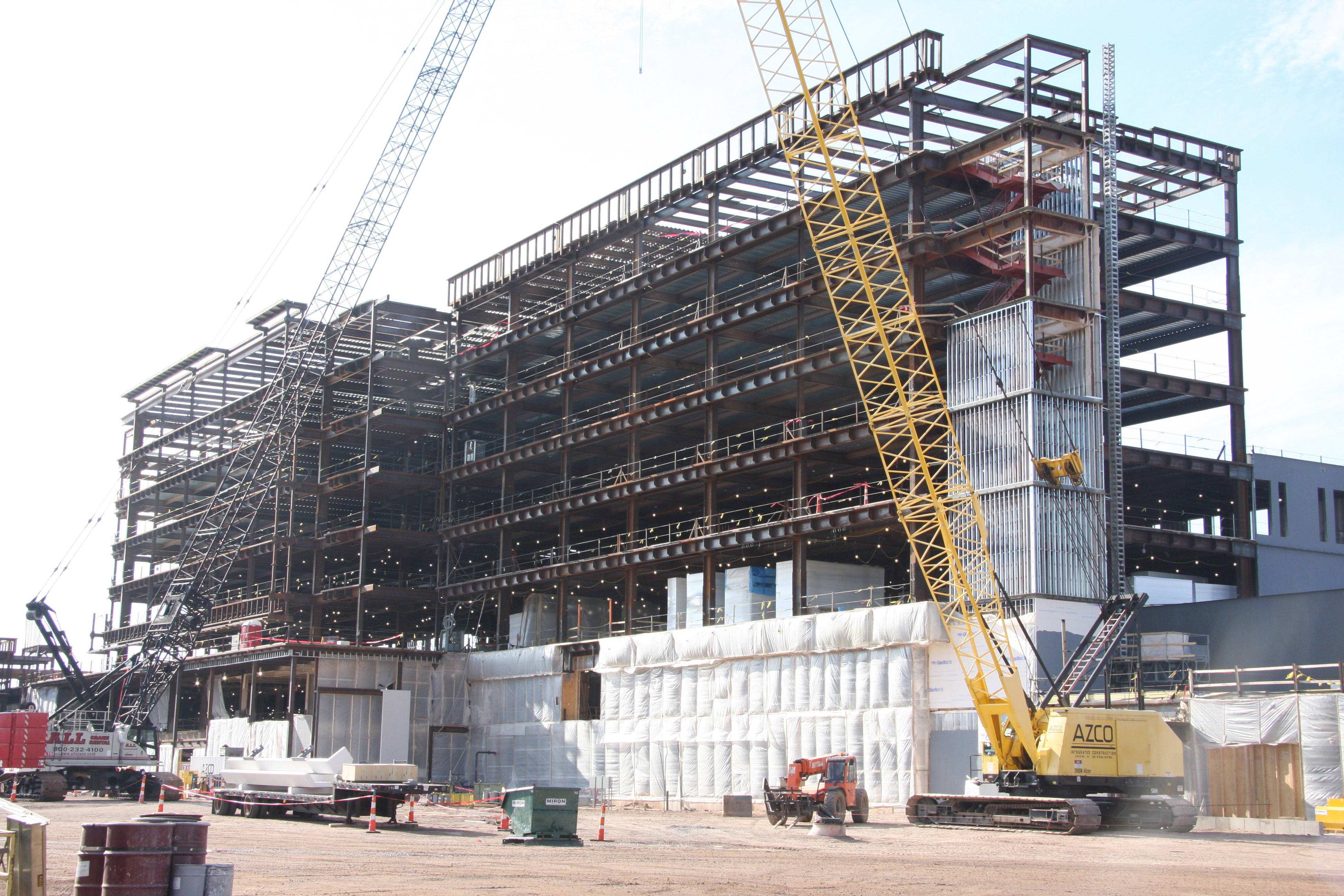 THE EIGHT-STORY UP Health System-Marquette Hospital rises on a former brownfield railroad roundhouse site.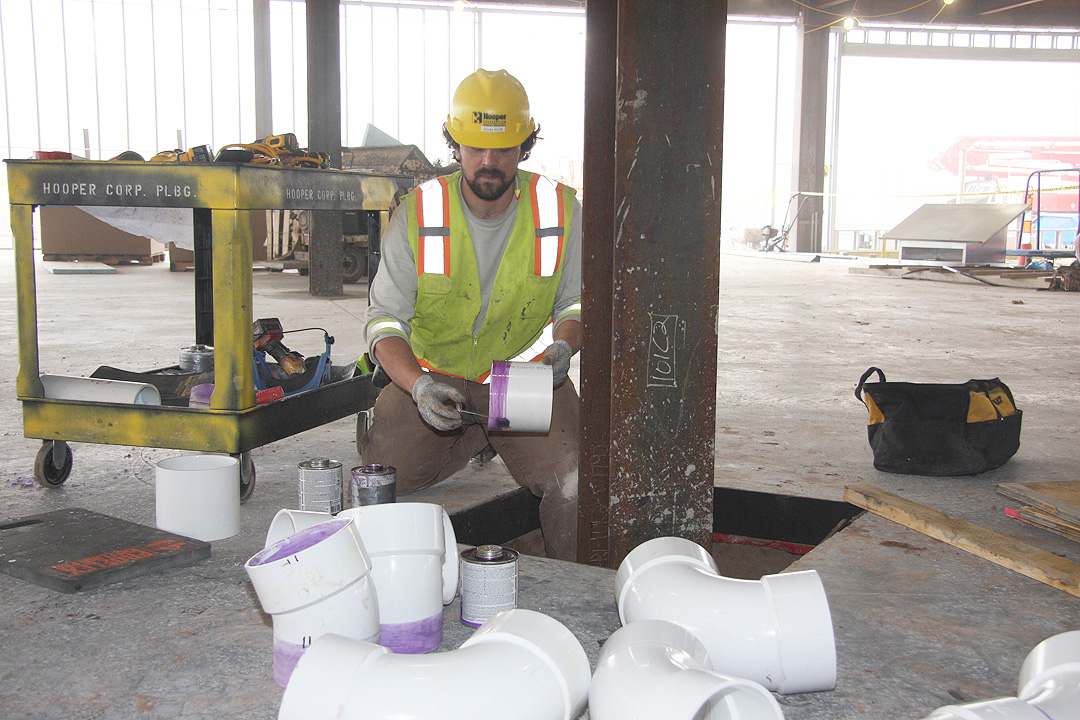 READY TO SET PLASTIC drain pipe at the UP Health hospital project is James Alcott of Plumbers and Pipe Fitters Local 111. He's employed by Hooper Corp. (Photos by Jack Deo)