QUINNESEC – Verso Paper Corp., already a harvester of trees for making its paper products, will soon have greater capacity to utilize formerly discarded wood parts like treetops, limbs and bark to create energy at the plant.
It's part of a new Renewable Energy Project at Verso's Quinnesec Mill, located on a 2,200-acre site east of Iron Mountain. When work is complete near the end of this year the mill will produce over 95 percent of its onsite electrical generation from renewable biomass.
The $43 million project includes design upgrades to the mill's existing combination boiler, which burns biomass from waste wood sources. The project will include the addition of a new biomass handling system, and the installation of a new Siemens turbine generator. The project will allow for the increased generation of the mill's own electricity.
"The implementation of the Quinnesec Renewable Energy Project is in alignment with Verso's three-pronged energy strategy, which is to reduce overall energy consumption, generate more green energy from renewable biomass and reduce our carbon footprint, all while reducing costs," said Mike Jackson, Verso's President and Chief Executive Officer.
When the new system is online, it will lower the plant's reliance on coal and reduce its carbon footprint (emissions will be reduced through better controls and improved combustion).
The plant will be able to more than double its capacity to generate electricity from wood fuel. Outside the mill, increased demand from the plant's supply chain could create as many as 50 new jobs in the regional wood supply system.
Verso Paper Corp.-Quinnesec Mill Communications Manager Mark Pontti said Verso's Bucksport Mill is adding similar equipment in 2012.
"This project will add reliability and stability to our process, and that translates into stability for our employees and our operations," Pontti said. "We think it will make us a much more desirable place to invest additional capital, and positions us well for the future."
The start of the project was announced in June 2010. We paid a visit to the project on Aug. 29, a day the plant was employing about 250 Hardhats and wrapping up a two-week outage associated with the biomass project. "We saw some nice work," said Tim Smith, project manager for general contractor C.R. Meyer. "The outage went very well."
Pontti said Verso is enthused about the biomass project in good part because of all the efficiencies the plant will gain. The tree bark and branches that were formerly left to degrade on the forest floor – the woodsmen call it "slash" – will be collected and burned for energy.
In addition to the increase in power production at the plant, some of the steam that's developed in the process can be used to dry wood pulp during the papermaking process. Pontti said selling any excess power from the plant to local utilities is currently "not in the plans" for Verso, but it's potentially doable.
The mill is capable of producing more than 1,000 tons per day of coated freesheet paper for offset and rotogravure printing. It also produces market hardwood pulp.
Established in 1985, the Quinnesec mill was started by Champion International Corp. to produce pulp. It began producing paper in 1990. The Quinnesec mill operated for six years for International Paper, and Verso acquired the operation in 2006. Today, the mill employs 475 workers operating one paper machine and a pulp dryer.
Based in Memphis, Tennessee, Verso Paper Corp. is a leading North American producer of coated papers, including coated groundwood and coated freesheet, and super-calendered and specialty products. Verso's paper products are used primarily in media and marketing applications, including magazines, catalogs and commercial printing applications such as high-end advertising brochures, annual reports and direct-mail advertising.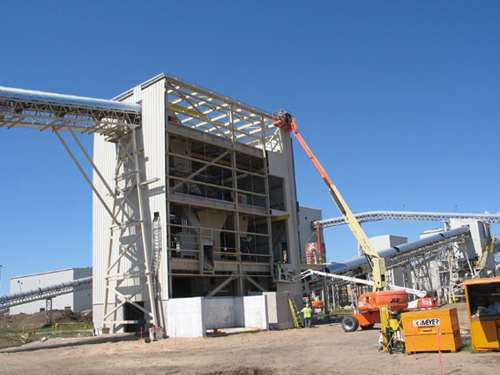 THE VERSO MILL'S Hog Screen Building under construction. On the lifts are Iron Workers Local 8 members"Spud" Kenarahdiyoho at the roof level, Art Burbey at the second level, and John Roman at ground level. Tree bark will be transported to this building, chipped to a specific size, and then conveyed to a boiler.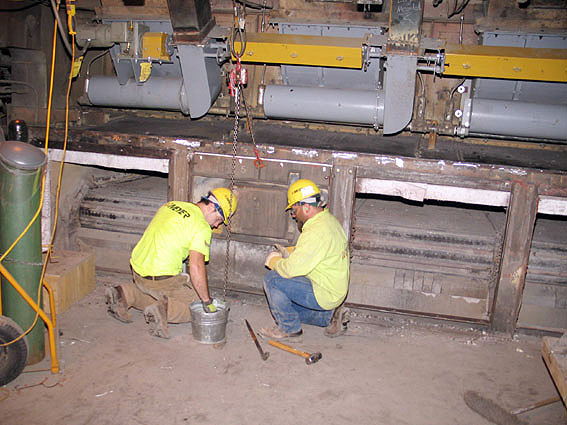 BOILERMAKERS Mike Maddock and James Chase of Local 169 place bolts on the stoker front of a waste fuel boiler at the Verso mill. They're working for C.R. Meyer.

PREPPING A 165-LB. steam line for installation at the Verso Mill are Plumbers and Pipe Fitters Local 111 members Jeff Palmcook and Jon Waoi, working for C.R. Meyer.