DETROIT - The Wayne County Community College District - long a fixture in the city with its campus along Fort Street on the western edge of downtown - is creating more space for its students and the public to
come
play and work(out).
Ground was broken Jan. 31, 2018 on the WCCCD City Center, a new $25 million building "that will focus on health, wellness, education and real-world career opportunities," according to the college. The 70,000 square-foot City Center is being erected at Fort and Howard Streets, next to the WCCD Downtown Campus.
"City Center ushers in a new era in providing the resources and infrastructure for interdisciplinary programs," said WCCCD Chancellor Dr. Curtis Ivery. "We have always worked to provide pathways to better lives for our students and the construction of this site allows us to add tremendous value to the region in addition to training students who both want and need to excel in their careers. City Center will also provide a home for the college's Wildcat Basketball team along with other athletic activities and entertainment events."
The two-story center will serve students,
student athletes
, staff and allow community members to use the equipment and facilities.
Tooles Contracting Group is acting as construction manager on the project. In early January, approximately 75 tradespeople were working at the site, which most recently had been a parking lot.
"It's a typical tight site, next to the busy main campus, and logistics are a challenge," said Tooles Project Manager Darrell Bond. "We're used to
a strict
adherence to scheduling with just-in-time deliveries of
materials,
because there just isn't any room. We don't need what doesn't need to be here. Overall we're working with that and we're doing well. The trades are doing well and everybody is getting along."
The building will have a two-story atrium. The first floor will have the basketball court with spectator seating for 2,500, locker rooms, classrooms
and
offices. The second floor will have space for exercise equipment in a fitness area and space for gymnastics. The center will also include a café and reception area.
Academically, the center will provide certificate and associate degree programs for fields such as fitness training, sports management, sports medicine, kinesiology, physical therapy
and
sports conditioning. Students in WCCCD's Health Sciences department, as well as members of the community, will also be able to use the new facilities.
WCCCD is the largest urban community college in Michigan. The college offers a multi-campus district with six campus locations that serve more than 70,000 credit and non-credit students annually across 36 cities and townships.
"We're going to be right on Fort Street, and it's going to be an asset, a nice-looking building," Bond said. The facility is expected to open in 2020.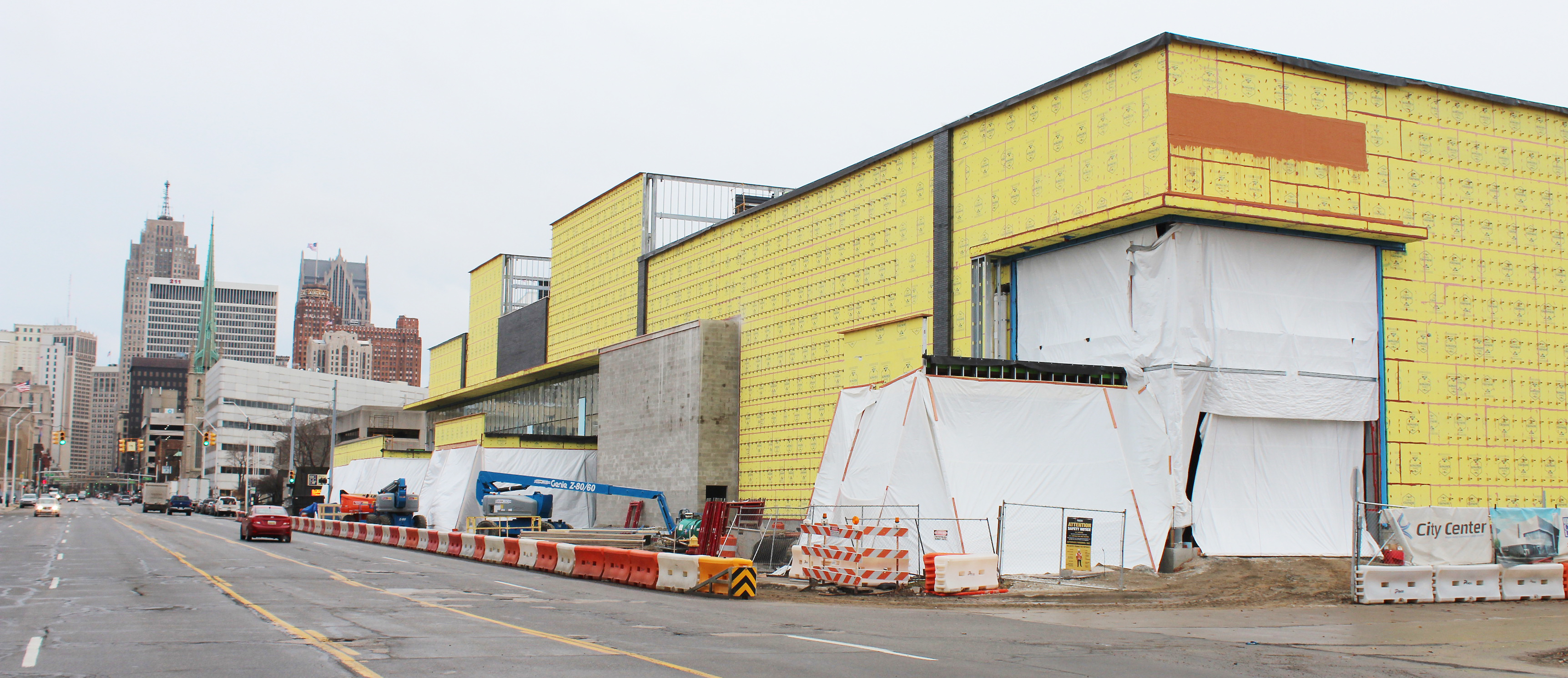 A NEW HEALTH AND WELLNESS "City Center" is being erected along Fort Street west of downtown Detroit by Tooles Contracting, their subcontractors and building trades union workers. The $25 million Wayne County Community College District building will offer a basketball court, workout and academic space for students as well as the general public.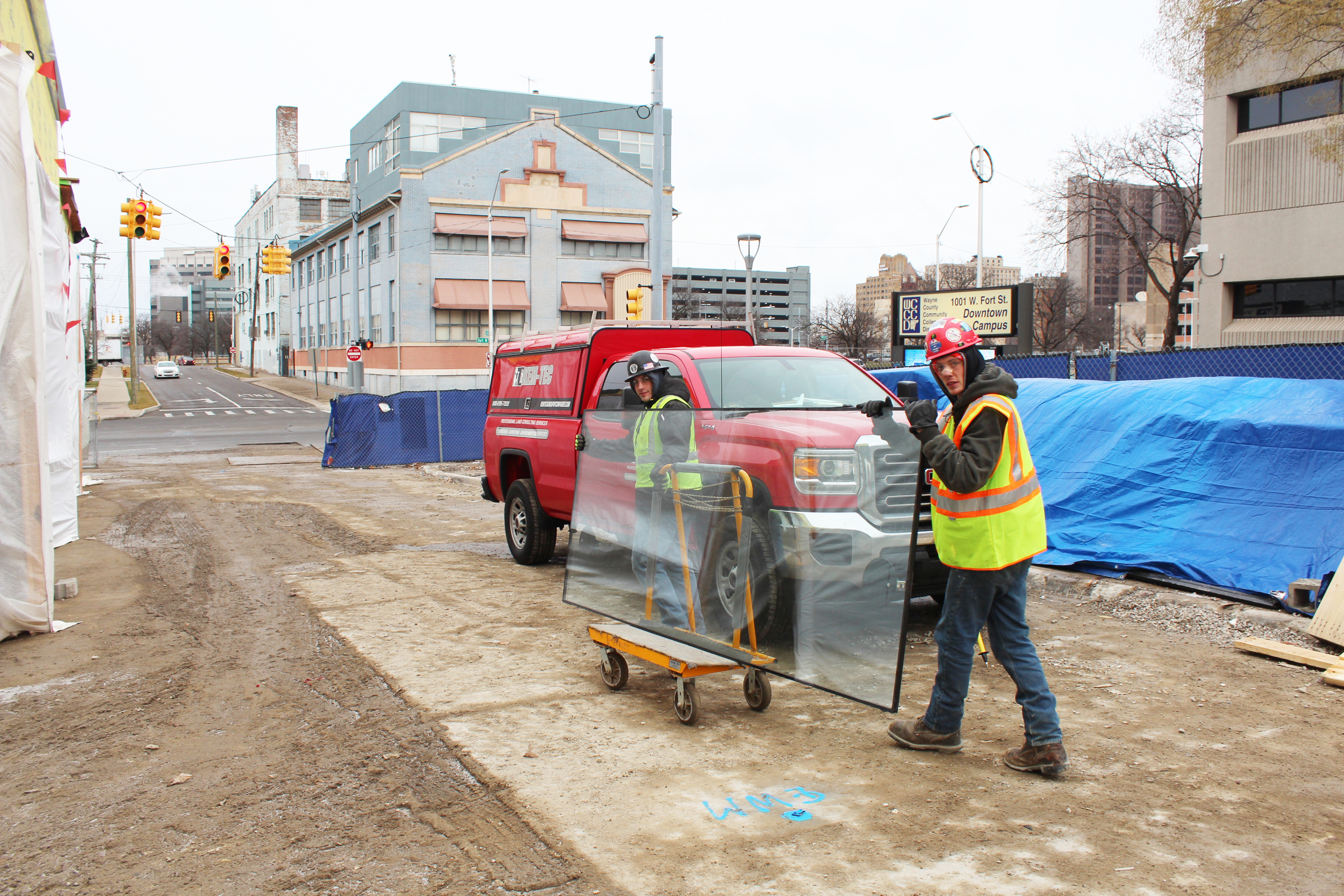 ROLLING A PANE of glass into the Wayne County Community College District's City Center project are Stephen Bickel and James Pritchett of Glaziers and Glassworkers Local 357. They're employed by Edwards Glass.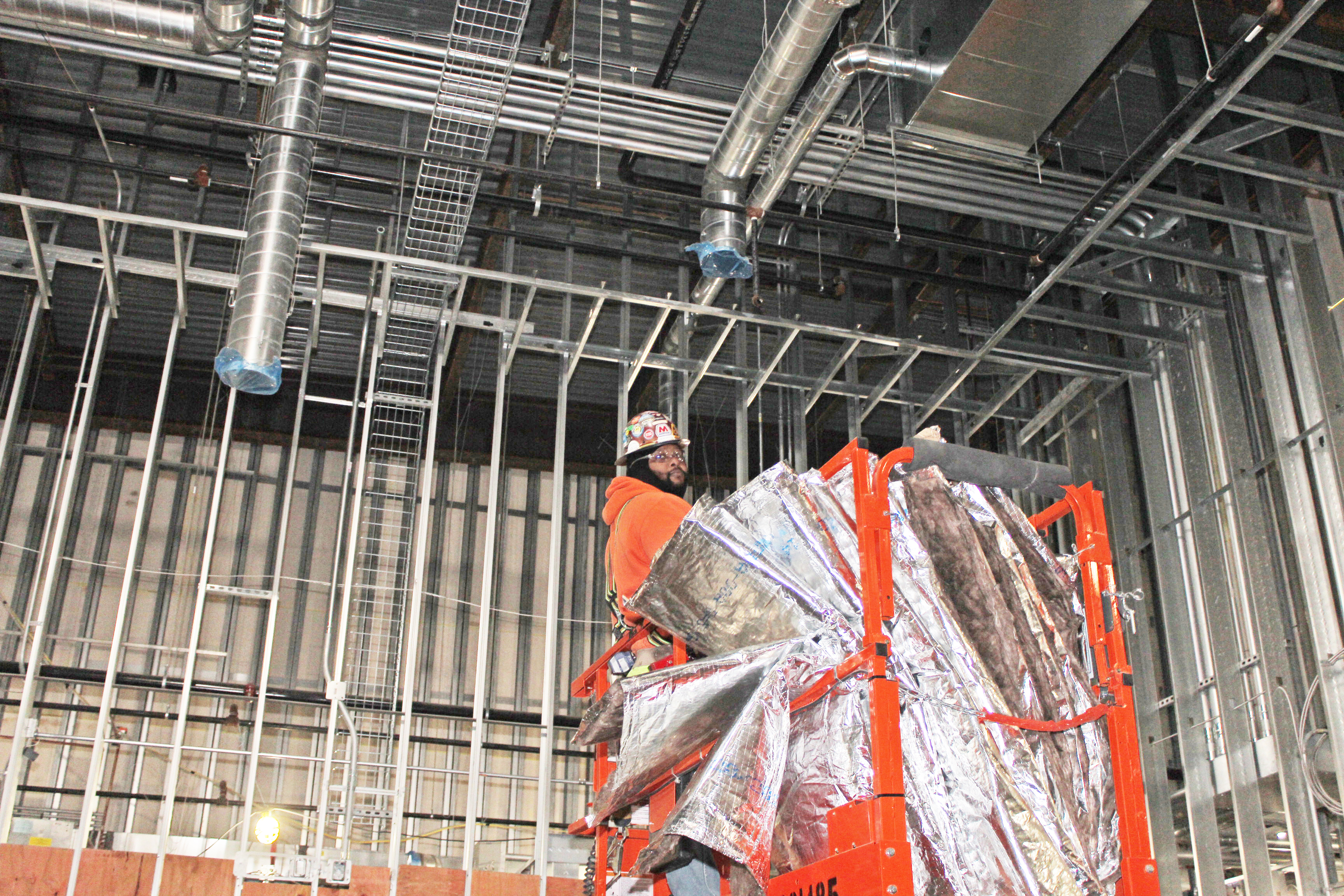 WITH SOME DUCT WRAPPING clearly on his to-do list, Tereal Stovall of Heat and Frost Insulators Local 25 gives himself a lift while working at the Wayne County Community College District's City Center.