LANSING - The Michigan Building and Construction Trades Council, back in August 2017 was the first group in organized labor to endorse the candidacy of Gretchen Whitmer for the state's governor.
She acknowledged the support of the union trades on March 6 at the Michigan Building and Construction Trades Council's 60th Legislative Conference, and assured delegates that after eight years of anti-labor legislation from majority Republicans in the House and Senate, "I have your back in the governor's office."
"I wouldn't be the 49th governor of the great state of Michigan if it weren't for the trades," Whitmer said during a speech to delegates at the Lansing Radisson. "So I want to thank you for the work that you did over the past two years to make sure I got into this position, so we are finally setting the agenda."
The day before, Democrat Whitmer publicly released her budget, complete with a proposal for a phased in 75-cent increase in the gasoline tax that would raise $2.5 billion per year to repair Michigan's roads and bridges, a repeal of the 2011 tax on public retirees' pensions while raising taxes on some businesses, and a $507 million increase on K-12 education. The Republican reaction to her budget, which will need GOP support, was less than supportive. "I'm going to say this as gently as I possibly can: Taking actions like that would be doubling down on stupid," said Senate Majority Leader Mike Shirkey (R-Clarklake).
Whitmer campaigned on a pledge to "fix the damn roads," and attempt to do what GOP lawmakers have been unwilling to do for the past eight years. In 2015, Gov. Rick Snyder signed a package that would eventually hike road funding to $1.2 billion per year, but that funding level won't be reached until 2021, and critics have assailed the plan for not using enough new money, but taking funding away from education and social services budgets. A bipartisan task force said Michigan needs to spend an additional $4 billion per year on roads.
"I introduced my budget yesterday," Whitmer told the trades delegates, "and I got a lot of strong reaction to it, and I knew that was coming. But the reality is here in Michigan, we've had 40 years of dis-investment in our infrastructure. And we are in a crisis point right now and I know you know it better than anybody. But the rest of the state needs to understand that, too. When we have leaders who stick their head in the sand or who give us false choices or phony solutions, or who fall in love with themselves and give us spin instead of real answers and plans to fix problems, we are at a point where we have a crisis and we have to take bold action to fix it."
The lack or investment in road funding has led to Michigan being routinely listed as having the worst or among the worst roads in the nation. According to a new report by the Southeast Michigan Council of Governments General Assembly. our state ranks last in the nation in per capita road spending. Using the year 2015 as an example, Michigan's road construction per-capita spending in 2015 was $141, climbing to $222 in 2021. But that still would not match the 2015 per capita spending in Ohio ($296) Wisconsin ($383) or Illinois ($474).
"You know better than anyone that only 78 percent of our roads are in good or fair condition, where the national standard is 90," Whitmer told delegates. "You also know that if we don't do anything, the trajectory we're on is deterioration at a rapid rate. We will be at 65 percent in just two years, 60 percent a year later if we don't do anything today."
Whitmer is also proposing a 3.8 percent increase over the $13.1 billion now spent on K-12 public schools. She would allocate the money in a "weighted" system, putting more dollars for students that experts say need them most. Michigan students rank in the bottom third in the nation in achievement in many subjects and grades, according to the National Assessment of Educational Achievement, via Bridge Michigan. "At the same time our education system is at the back of the pack," Whitmer said, "where our kids' literacy rates are the worst in the country. Michigan kids can't read like they can in other states."
Michigan's new governor weighed in on a few other subjects of interest to the trades:
*She's reluctant to raise taxes. But...
"I know that I'm asking for a tax increase. People said, 'oh you want a tax increase.' No I don't. I don't want to increase taxes. But I also know that if we're going to fix the roads, we're going to have to pay for it. And we're been failed by the leadership until I've gotten here.
"I just came from the national Governors Association meeting in Washington D.C. Governors from across the country were there. Republican and Democratic alike. Everyone of us is grappling with a skills shortage, as well as infrastructure problems. But no state has got it as bad as we do because we've had 40 years of leaders who didn't do the hard work . That's what I'm trying to remedy.
"While every state in this nation is trying to grapple with that, we're got catching up to do just to get where they are. But we're going to do it, and we're going to do it in a way that ensures that working people can get ahead in this state. And where everyone who is willing to put in the work is able to make a damn good living in the state of Michigan. It starts with this budget."
*She supports organized labor, and the reinstatement of prevailing wage and repeal of right-to-work, even if she can't do those things with Republican majorities in the House and Senate. "I want you to know, I have your back in the governor's office," she told trades delegates.

"That when we fix these problems we show people that working people, Democrats, know how to solve problems. We bring more into office, and ultimately we repeal things like right to work and we extend unemployment benefits back to 26 weeks. We make this a state where we draw hard working people back into our borders and we keep them here because you can build a good life here."
*Organized labor will have a greater role in state government, whether it's with trade-related licensing boards, or MIOSHA or the state Department of Labor. "All the different ways you confront state government, you see the places where we gotta do better," she told delegates. "I need your input. I also know that when we see vacancies in everything from the Cherry Commission to vacancies on the bench, I want to make sure that you and your leadership are represented in that conversation, because perhaps there are opportunities on some of these boards to have one of the members sitting on it so that we can have real perspective and make sure that we're got an empowered voice at the table."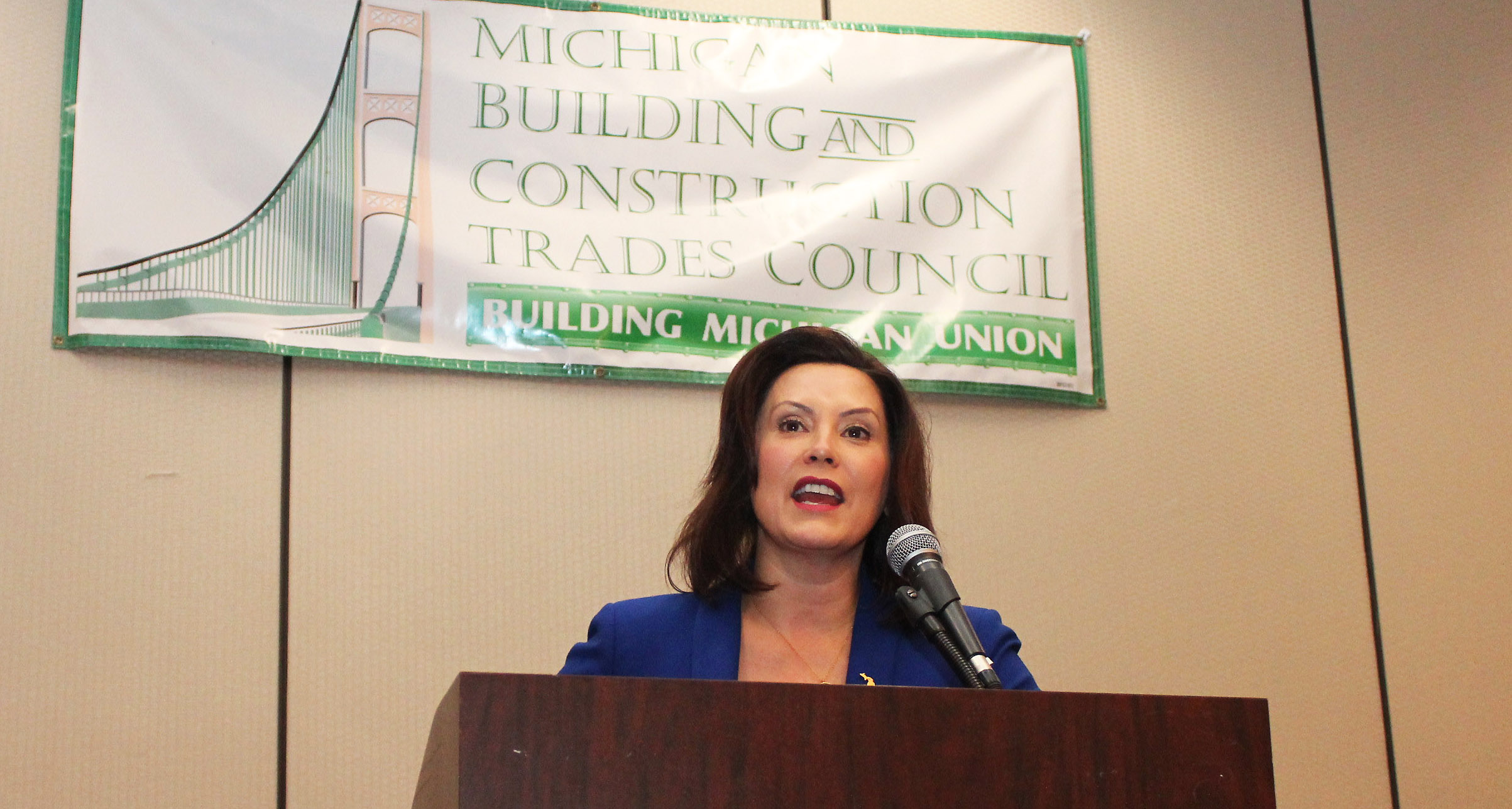 GOVERNOR Gretchen Whitmer told Michigan Building and Construction Trades Council Legislative Conference delegates that in last year's legislative session, "when they go after things like prevailing wage, where they attack a good living," it should come as no surprise that construction has a difficult time attracting workers.