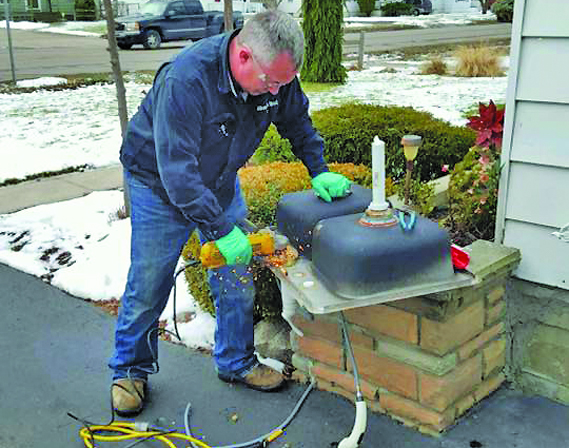 FLINT - Union plumbers, both journeymen and apprentices, continue to set the standard for being good community citizens in the wake of the city's lead-in-the-water crisis.
By the end of February, volunteer plumbers had made about 4,600 visits to homes and apartments in the city, delivering water, installing filters on faucets, and as needed, replacing the faucets so they could accept the filters. In recent weeks, said Plumbers and Pipe Fitters Local 370 Business Manager Harold Harrington, an average of 20 union members - most of them apprentices from the Flint area or from surrounding union locals - have set out to Flint homes to provide those plumbing services.
Credit also goes to the union contractors who have allowed the apprentices to use their resources and training time to make the visits to the Flint homes.
"It's a just an example of people coming together to help others, and of the benefits of being in an organization like the United Association," said Harrington. "Our contractors, and our joint training committees in our local and in our neighboring local unions, have really come together to show that this is truly a brotherhood, working for the betterment of others."
Harrington didn't bring this up, but in many ways he has become the go-to source for practical media information on the lead crisis in Flint. He has been featured on NBC Nightly News, on the Rachel Maddow Show, and a guest on local town halls and community panels, as well as a source for numerous newspaper and internet articles. One of those articles revealed that Harrington and his wife have been exposed to elevated lead levels through their home's plumbing, and their dog died last year after having what they now realize were symptoms of lead poisoning.
When asked, he acknowledged that he is being recognized on the street by people who have seen him on TV explaining what lead pipe looks like or explaining what union members and their contractors have been doing to help the community.
Another volunteer effort by Local 98 and 370 plumbers took place on Saturday, March 5.
"Six months ago, who would have thought all of this would be going on in Flint?" Harrington said. "People come up to me and thank me, but I tell them the credit goes to a lot of other people who have stepped up to help. And the feedback you get from the volunteers is always positive. They always tell you they feel good about what they've done and are better for having done it."
Flint's lead crisis began in April 2014, when the city and its Water Department, under control of a state financial manager, switched its supply from the Detroit Water and Sewerage Department to corrosive Flint River water taken in by the Flint Water Treatment Plant.
Inexplicably, necessary corrosion control chemicals which coat the interior of the pipes, were not put into the Flint water system when the change was made, allowing lead to leach from pipes and joints and into an unknown number of Flint homes. For months, the state Department of Environmental Quality denied reports of elevated lead levels in drinking water and the blood of Flint residents, but private tests indicated the presence of high lead levels, which can cause irreversible brain damage in young people. The state finally acknowledged the lead problem on Oct. 1, and now Flint and Genesee County are under state and federal emergency declarations. The Flint system has been switched back to using Detroit water.
A number of unions and their contractors have stepped up with efforts to help deliver and distribute bottled water to Flint residents. But the plumbers have maintained all along that this volunteer work is in their wheelhouse, and they have the effort to show it. The biggest push by volunteers came on Jan. 30, when about 470 union plumbers and pipe fitters from across lower Michigan spent a good chunk of that Saturday to install filters, and bring lead testing kits and bottled water to more than 1,500 homes.
And as we mentioned, local union apprentices have been making more visits since then. On Saturday, Feb. 27, a group of about 16 Plumbers Local 98 members, coordinated by BA Wade Kovach, came up from the Detroit area and donated their time to install more filters and distribute bottled water. "Some of our members weren't able to make it to Flint on Jan. 30 and repeatedly asked us, 'when's the next effort?'" said Local 98 Business Manager Dan Nixon. "So it came together on Feb. 27, and they took time away from their families on a Saturday to help others. Just another example of union commitment to the community."
Last week, Harrington said the volunteer efforts have been dwindling in recent weeks, with calls requesting help trickling in compared to earlier in the year.
Meanwhile, everyone knows that the filter installation is a stopgap measure, and in some cases, the filters themselves are inadequate. The tap-mounted filters that were provided by the state and self-installed by residents or with the help of the professionals are only rated to remove lead in quantities of up to 150 parts per billion. Some water readings in Flint earlier this year had shown lead in quantities up to 4,000 ppb, but those numbers seem to be coming down drastically.
The latest lead testing results announced by Gov. Rick Snyder's office on March 1 found that 37 of 423 "sentinel sites" for lead testing had results above the EPA-designated "safe" limit of 15 ppb. Eight of the samples exceeded 100 ppb.
State and federal money is starting to roll into Flint, but it's not intended to fix the problem and there still isn't necessarily agreement on how to fix the problem.
On Feb. 26, Snyder signed a bill that would deliver $30 million to pay for the water bills of Flint residents, but local officials say double that amount is needed to pay the bills.
During a news conference on March 4 that took place just before the first lead pipe at a Flint home home was replaced with a copper pipe, Mayor Karen Weaver called on Gov. Rick Snyder to encourage GOP leaders in the Michigan Legislature to quickly approve $25 million for the first phase of the city's $55 million "Fast Start' plan. She also wants Congress to pass a bipartisan plan led by U.S. Senators Debbie Stabenow and Gary Peters of Michigan for $220 million in clean water and health funding. Further, she said Flint expects the Michigan legislature to move forward and pass a $195.4 million supplemental appropriations package which is badly needed to provide health services, children and family services, and educational intervention strategies to help families impacted by lead.
Initial estimates by the Snyder Administration say it could cost at least $55 million to replace some 15,000 pipes in the city.
On March 1, Environmental Protection Agency Administrator Gina McCarthy visited Flint and said the city's lead levels are dropping. She said a phosphate barrier additive that coats the interior of the pipes with a biofilm, added since Flint reconnected to Detroit's water system, appears to be working in reducing lead levels in the water.
"The numbers we're seeing are good," she told The Detroit News, "but I'm not going to tell people anything more than that until I see the data and it's based on science." She said the EPA will release its most recent findings to the community near the end of March.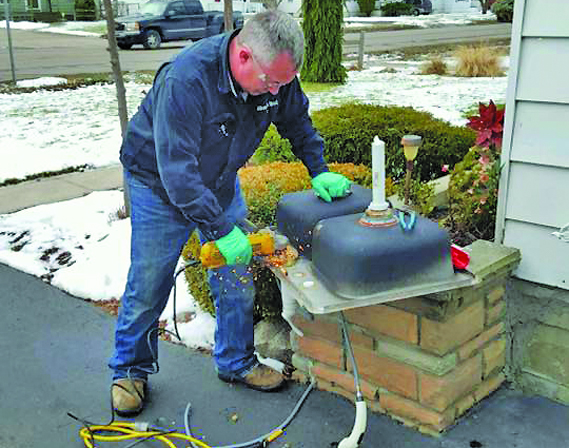 MOST VISITS by plumbers to homes in Flint are in and out: install filters on the kitchen faucets, and they're done. Here, Local 370 volunteer Paul Davis had to remove a homeowner's entire sink to cut off an old faucet, in order to install a modern faucet that would accept a filter.