MADISON HEIGHTS – U.S. Rep. Sander Levin, a labor lawyer in his early days, had an active role when Michigan's labor laws and Constitution were written in the 1960s. He was chairman of the Michigan State Senate Labor Committee, writing the first comprehensive public employment labor relations bill in the nation.
Now, over the past 20 months, he said he has found it difficult to watch state Republican lawmakers, who control all levers of power in Lansing, unraveling all of the pro-worker laws that have been part of the fabric of Michigan for more than 40 years. He talked about his concerns at an evening rally supporting Proposal 2 on Oct. 2 at the Retail Clerks Hall.
"Here's the choice," Levin said. "Pass Proposal 2, or see the likelihood that Michigan will become a right-to-work state. It's hard to believe, is it not? I believe if Proposal 2 doesn't pass, you'll see a right-to-work bill come up in November or December . And I believe the governor will sign it."
Sponsored by Sheet Metal Workers Local 80, the rally was attended by about 300 and featured several speakers. Host Mark Saba, business manager of Local 80, said he hoped the event "will be a wake-up call for working families. A lot of blood, sweat and tears were shed so that we could collectively bargain with contractors. Proposal 2 is not an issue about Democrats and Republicans, and it's not about us being greedy."
What passage of Proposal 2 on the Nov. 6 ballot is about, is enshrining workers' rights in the Michigan Constitution. The proposal will, according to Protect Working Families:
Establish the people's rights to organize to form, join or assist unions and to bargain collectively with public or private employers regarding wages, hours and other terms and conditions of employment.
Prohibit employers from retaliating against their employees for exercising those rights.
Prohibit state and local governments from interfering with those rights.
The Protect Working Families coalition came about in response to the proposal or passage of 80 to 100 anti-worker legislative proposals backed by Republican lawmakers in Lansing. Among them are reduced jobless benefit weeks, elimination of project labor agreements on state-funded projects, prohibiting schools from collecting union dues, and implementation of collective bargaining-killing emergency financial managers. Proposed laws would suspend teachers' teaching certificates for two years for strike-related activity, removal of prevailing wage on state-funded projects, complete repeal of MIOSHA, and prohibiting paying union officials for conducting union business. Plus many more.
"The labor movement made the middle class in Michigan, and joining unions gave the middle class the best choice to improve their lives," Levin said. "Now Republicans in the state want to turn the clock back 30, 40, even 80 years. About a quarter of the people represented by organized labor in Michigan vote for people who would take their rights away. We can't let that happen again in the state of Michigan."
Detroit Police Officers Association President Joe Duncan told the crowd that if Proposal 2 passes, "I believe that the viability of us as a union would be gone. Everything that unions try to do to improve your lives hangs in the balance of this election. It's imperative that you get your friends and family out to vote for Proposal 2. If we don't get this done, we're looking at right-to-work – they already have it ready to go."
Dan McNamara, president of the Detroit Fire Fighters Association, said "every time my members complain about their union, I tell them, 'you show me one thing your employer gives you and I'll show you 100 things your union gives you.' " He added: "they're using budget problems to bust our unions. If we don't stand up and win this thing, we're done."
State Sen. Vince Gregory told the crowd that warnings that Michigan will become a right-to-work state if Proposal 2 doesn't pass are not empty threats. "From what I have seen in the state Legislature, Michigan will become a right-to-work state," he said. "This is a crucial, crucial point for us. But it's doable. We must let our neighbors and families know. We must make our support for Proposal 2 a point to bring up in conversations we have. We must pass Proposal 2."
Observers of the attacks on collective bargaining nationwide know that the first major battle came last year in Wisconsin, where Gov. Scott Walker-R led a fight to restrict collective bargaining for that state's public employees. Fighting him and the Republican-dominated legislature there was Marc Norberg, a Wisconsin resident and representative for the Sheet Metal Workers International Union. He pointed out to the Michigan crowd that in real-world terms, a loss for Proposal 2 is sure to lead to pay reductions for people he has come across passing through the neighboring Upper Peninsula: firefighters, cops, snowplow drivers and other workers. "If you think it's a good idea to take a little skin off those guys, you're crazy," he said.
A former wrestler, Norberg said the fight by the labor movement against entrenched powers that are aiding the Republican Party is like "fighting from the bottom" in that sport – not a good place to be. "When you're fighting from the bottom, you're dealing with face rubs and stinky armpits, it's very difficult," he said. "But that's what the labor movement has been doing in Wisconsin, in Ohio, in Indiana" where a right-to-work law was adopted earlier this year. Now, he said, with Proposal 2, "Michigan's labor movement has a chance to fight from the top. If you guys do this, you will be the new heroes of the labor movement."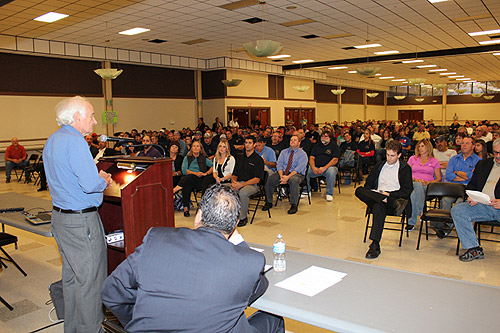 A RALLY IN SUPPORT of Proposal 2 at the Retail Clerks Hall in Madison Heights was highlighted by a talk from Congressman Sander Levin. To his right is host Business Manager Mark Saba of Sheet Metal Workers Local 80. "The vast majority on the Republican side want to destroy the labor movement – and dammit, we're not going to let them." Levin told the crowd.