At home, on campus: New apartments meet a growing need at Wayne State
Date Posted: January 11 2019
DETROIT - Wayne State University's reputation as a commuter destination is moving further into its past, as the school is on course to have space to house 3,800 students on campus by 2021.
The Anthony Wayne Drive Apartments are a major source of those new student beds: construction manager Gilbane Building Co., their subcontractors and building trades union workers have already completed Phase I of the project, a central 11-story building completed last August with room for nearly 400 residents.
Phase II, which includes attached six- and eight-story buildings on the north and south sides of the development, is slated for completion next year. "Once Phase II of the project is completed in August 2019, the Anthony Wayne Apartments will house 842 students in a mix of studio, one-bedroom, two-bedroom
and
four-bedroom apartments with upscale finishes and residential grade kitchens," said Tim Michael, Wayne State's associate vice president for business and auxiliary operations and chief housing officer.
The housing development is being erected on what had been a parking lot and some green space along Anthony Wayne Drive. Gilbane Project Executive Randy Zylstra said the construction team had to deal with some foundations of old homes and businesses at the site, but encountered "no surprises." He said construction employment peaked at about 275 last July, and in November about 125 Hardhats were on the job.


"The tradespeople are doing very well," Zylstra said. "We have had a fairly hectic schedule on the project, but the trades were a big part of our success in getting the 11-story completed on time. They're experienced and they have performed well."


Zylstra said Gilbane and its subcontractors were able to erect the 11-story tower in a speedy 14- month period, in part because the building's design included a modular structural stud wall and metal panel system built off-site, transported to the project and lifted into place. There has been a significant amount of prefabrication of plumbing, electrical and ductwork, too. "It's the way a lot of these buildings are being built these days, and it's one of the reasons we were able to build this so quickly," Zylstra said.


He and Gilbane Project Supt. Matt Lamrouex said the biggest challenge on the project has been working with the often non-vertical alignment of all the mechanical systems - the design's mix of one-, two- and four-bed apartments means there has been little straight-line commonality in the mechanical, electrical and plumbing (MEP) from floor to floor. "It's not a beautiful honeycomb, so the MEP coordination has been huge, and it's gone very well," Zylstra said.


Michael said the reviews from students currently living in the center 11-story tower have been very positive. The Anthony Wayne Drive housing offers amenities that make for a home away from home for students - and then some. Rooms offer full-size beds, full kitchens, and private bedrooms.
"Kids want what they had at home, what they're used to is having their own personal space, and we're offering privacy within the community," Michael said. The completed project will also include 18,000 square feet for retail space and 9,700 square feet for a new student health services center.


"The project has gone incredibly smoothly; Gilbane is a professional, first-rate company," Michael said. "It was a near-miracle that they were able to build the 11-story building as quickly as they did."


Wayne State University's partner on this project is Corvias, a pioneer in sustainable, long-term partnership solutions. The $307.5 million dollar investment from Corvias and the 40-year partnership will assist with debt repayment, continued construction, demolition, and rehabilitation to several housing facilities on the WSU campus in addition to maintenance and janitorial services for all housing on campus. Such arrangements are being increasingly used by universities, and this partnership allows WSU to continue to maintain ownership of the land and all facilities used for campus housing, as well as provide all residence life staffing and programming.


Gilbane is also the project's design-builder, working with Hamilton Anderson & Associates. "HAA is a strategic partner for Gilbane, Corvias and WSU and a well-known entity in Detroit," Zylstra said. "HAA has designed over 800 projects in Detroit. HAA is ingrained in the fabric of the community. HAA also has in depth knowledge of the City of Detroit and includes a diverse leadership team."


More Wayne State on-campus housing will become available in 2020, after the trades complete a $30 million renovation of the Chatsworth apartments, a nine-story apartment building on the university's campus that was built in 1928 and is on the National Register of Historic Places. It is scheduled for a complete rehabilitation and will reopen with apartment space for 368 students.


One of the nation's 50 largest public universities, Wayne State has a student population of more than 27,000.


Michael said it's exciting that Wayne State is part of the revitalization of Detroit, and that demand for student housing on campus mirrors the demand that's going on elsewhere in Midtown and downtown. "We know that academics is the first reason people pick a school," Michael said. "But the second reason people pick a school is the campus environment. With the additional housing and other improvements, we've been working hard over the past 10 years to improve campus life, and make Wayne State's campus a place where people want to live and attend school. Midtown is a very happening place, and people see it as a safe, attractive environment in the core of Detroit."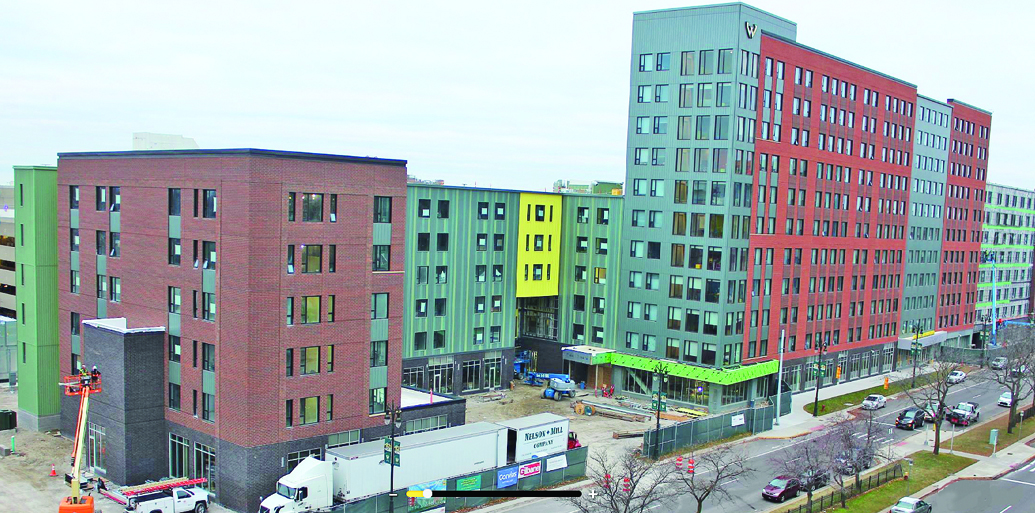 THE ANTHONY WAYNE Drive Apartments on the Wayne State University campus in Detroit will house 842 students when work is complete next year. The new housing meets a heightened demand by students to live on the Midtown campus, which is enjoying a resurgence along with downtown Detroit.

Webcam photo credit: Gilbane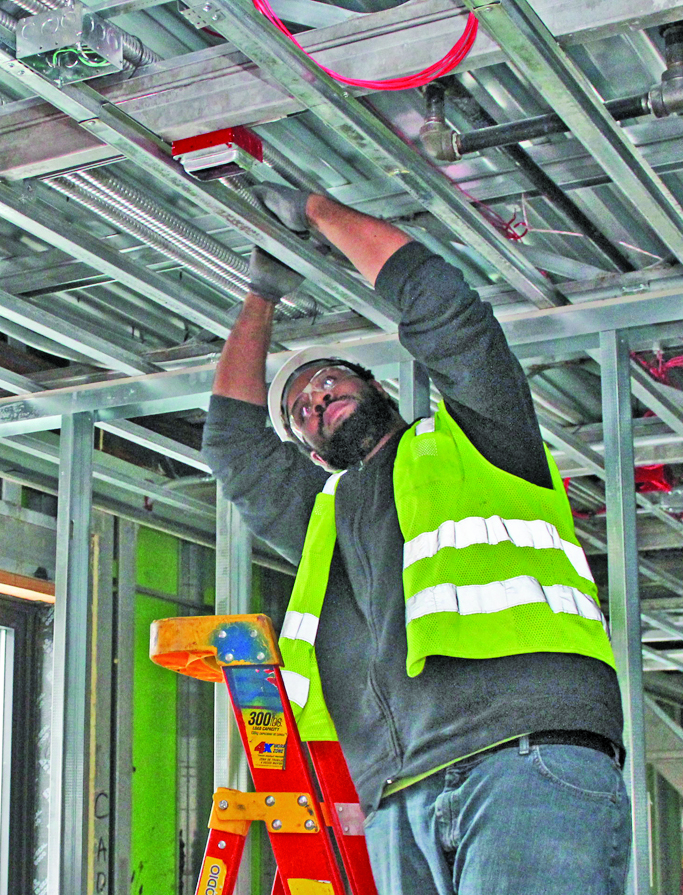 WIRING A BOX in a sixth-floor ceiling at Wayne State University's new resident hall complex is Brandon Smith of IBEW Local 58. He's employed by Bayview Electric.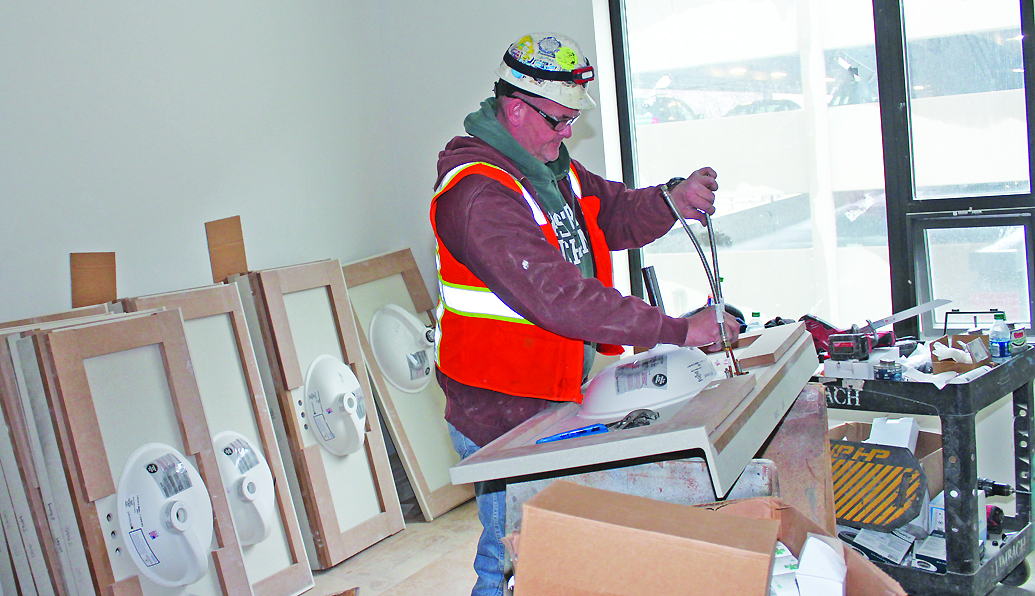 ASSEMBLING A SINK in a second-floor dorm room at the Wayne State University's Anthony Wayne Drive Apartments project is Troy Okoniewski of Plumbers Local 98. He's employed by Limbach. Behind him are a few other sinks Tom and other plumbers will have to install.