Lofty 'The Griswold' project rises atop parking structure
Date Posted: March 11 2016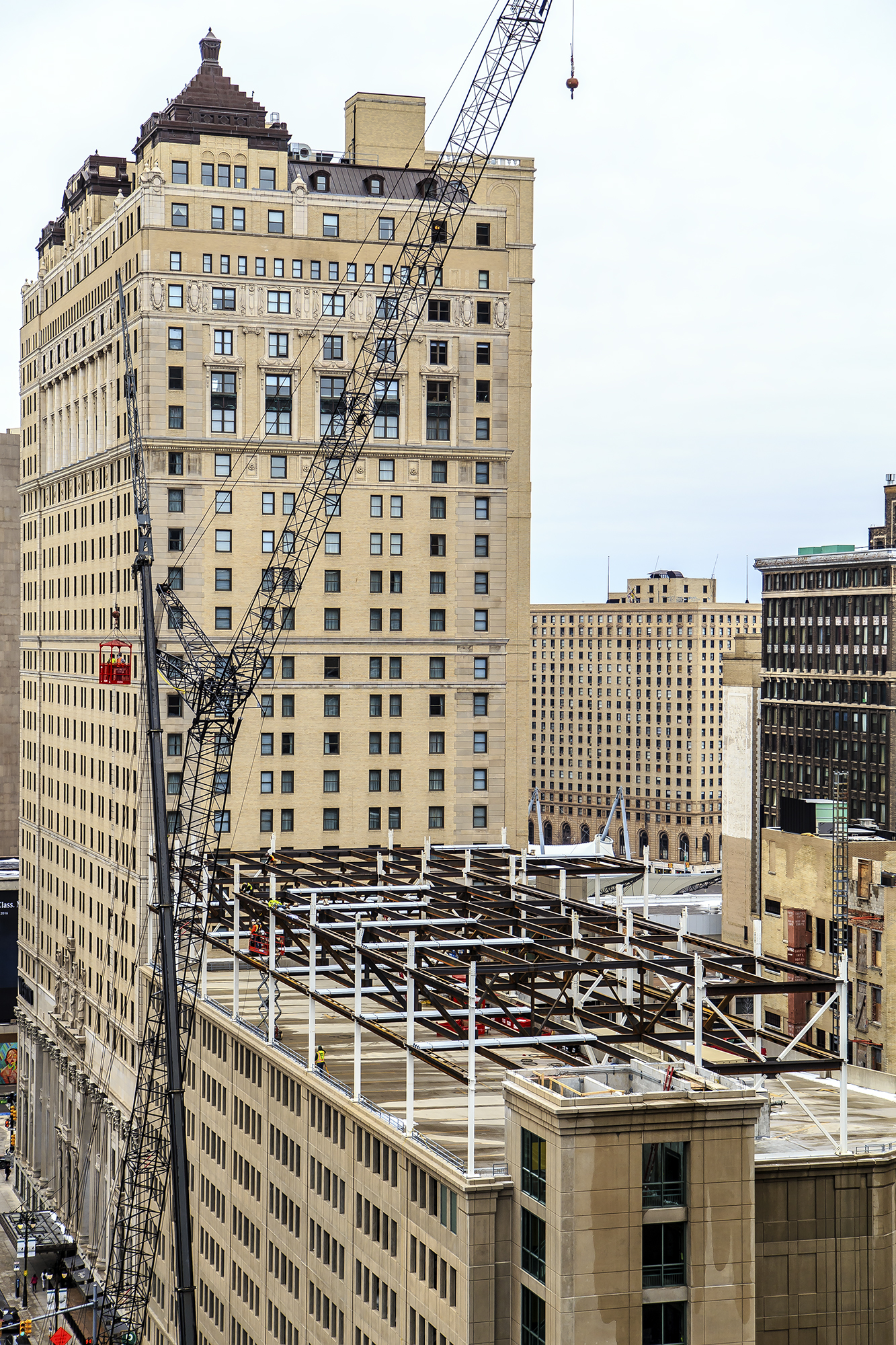 DETROIT - Converting old commercial buildings into new residential space isn't happening quickly enough downtown, as the demand for places to live is easily outstripping the supply.
New residential space has been sorely lacking downtown, but construction of The Griswold is changing that conversation a bit. Construction manager Walbridge, its subcontractors and the building trades have begun erecting a five-story, 80-unit apartment building above an existing 10-story, 545-space parking deck. The lofty project was planned to follow the renovation of the landmark Westin Book-Cadillac Hotel next door in 2007, but the Great Recession put everything on hold, until now.
"It is gratifying to be able to revive The Griswold nearly a decade after our initial plans for this location were put on hold," David Di Rita, principal of Roxbury Group, said in a statement. "We see the renewed project as a natural evolution of our original vision for the site, which also builds on the current momentum in Capitol Park."
The $24 million project will include one-, two- and three-bedroom units ranging from 750 to 1,600 square feet. The parking structure below was built to serve the Book Cadillac, but will also serve tenants of The Griswold. The parking structure has first-level retail to enhance the Michigan Avenue streetscape, and the structure connects to the Book-Cadillac with a second-level walkway.
Erection of the structural steel on the project began late last year, and has continued through a relatively mild winter. Midwest Steel and about 18 Iron Workers Local 25 members have been on the job.
"Good group of iron workers out here, a handful of them asked to work this job because it's unique," said Midwest Supt. Fred Hetzer. "It's not too often you start a job 125 feet in the air."
Colasanti, which erected the parking structure, left behind pockets nine years ago that accept the connection of anchor bolts that will tie-in the new steel. Everything else about building the steel structure, Hetzer said, is a bit complicated. The parking deck itself has weight and height restrictions that don't necessarily allow the movement of heavy equipment and machinery, so much of it has to be hauled up via crane.
There are city sidewalks directly below, so tradespeople will be wearing chin straps for their hard hats and have to be super-cautious not to drop nuts or bolts, or anything else. Cranes were given space on two lanes of Michigan Avenue, and that's barely enough space for them to pivot. There's a dead area where the crane can't reach up top, and a very tight lay-down area below. Traffic has to be stopped with regularity as there have been some 50 semi-trailer trucks delivering structural iron.
"This isn't a cornfield, it's a busy area with a lot of traffic and people walking directly below us on the sidewalk," Hetzer said. "But with all that going on, the big thing up here is the wind. It hasn't been too cold this winter, but it's always windy. When it's 20 miles per hour on the ground, it's 30-35 up here, and that shuts the cranes down. But we're doing OK, it's a good job."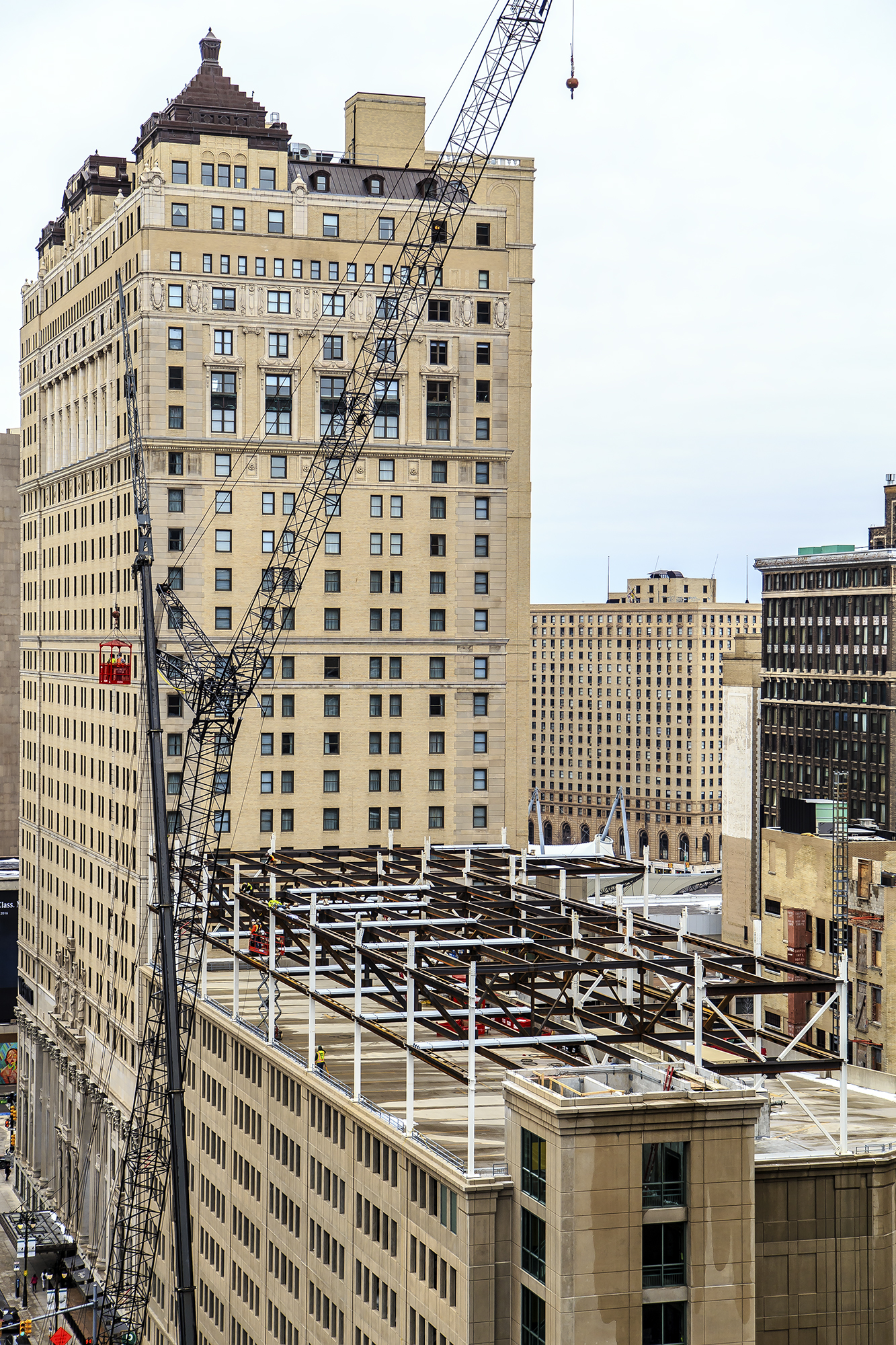 A 10-STORY parking deck built in 2007 just east of the Westin Book-Cadillac Hotel in Detroit was prepped to support the ongoing construction of 80 apartment apartment units. Walbridge is managing the project. Photos courtesy Walbridge.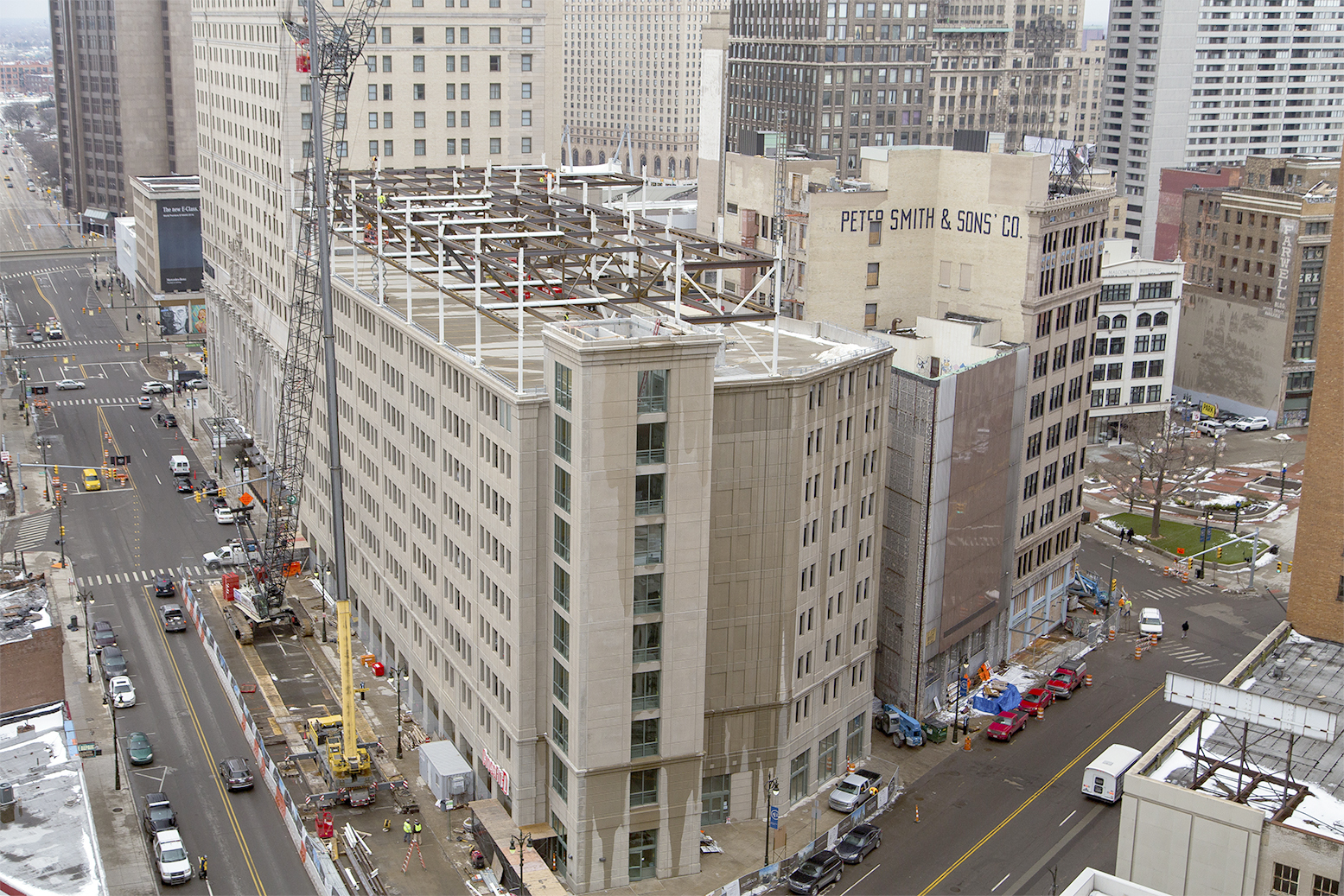 THE CONVERGENCE of Michigan Avenue, at left, and Griswold Street, at right, creates a tight site for constructing the apartment units above. Photos courtesy Walbridge