New medical center, new daytime vigor in Royal Oak
Date Posted: February 21 2020
ROYAL OAK - The city's downtown is popular for its nightlife. Later this year a major development in the city's Civic Center will make it a magnet for a lot of people during the daylight hours, too.
Construction is progressing on the Henry Ford Health System's new six-story, 145,000-square-foot outpatient medical center near 11 Mile Road and Main Street. The development is expected to employ 200, and will surely increase foot traffic to downtown restaurants and retailers.
The new medical center will be a daily destination for physicians, nurses and support staff, some of whom will relocate from Henry Ford's current location on Woodward Avenue. Services will include women's health, pediatrics, sports medicine, rehabilitation, radiology, primary care and outpatient surgery. A walk-in clinic, retail eye care services, a retail pharmacy and a cafe are planned for the first floor.
"This announcement furthers our vision of growth for Royal Oak as we continue to show that our community is the best place to live, work, and spend time," said Mayor Michael Fournier, upon the project's announcement. "The project will not only generate a number of quality local jobs, but as a flagship Michigan healthcare provider, Henry Ford will help bring new people to our city every year."
Clark Construction Co. is managing the project, which is employing 80-90 tradespeople. "They're doing an awesome job, really great," said Clark Project Manager Andy Richter last month. "Right now we're focusing on interior build-out, and each floor is at a different stage of 'rough.' The mild weather we've had this winter is a big deal and it has really helped us."
The $70 million medical center is at the same civic center campus that is being revitalized with the ongoing construction of a new Royal Oak City Hall and Police Department headquarters.
"We really see the development as a great asset in diversifying our downtown, bringing in more medical and office workers to help make the area more vibrant from 9 to 5," said Royal Oak Economic Development Manager Todd Felton, "Combined with the new city hall and police department, we see the development as tremendously beneficial to the city."
Construction began in May 2018 under the owner-developer of the project, the Boji Group. A month later came a game-changing decision by Henry Ford Health System to occupy the entire building, which put a four-month pause on construction while the building was redesigned to meet the needs of the tenant. "It's been a fantastic process, we've been very happy with Clark, its subs and the trades, and Royal Oak has been great to work with," said Michael Leinweber, vice president of construction services for Boji Group.
Added Boji Group President Ron Boji: "We've done a lot these buildings in a public-private partnership, and on this project here we're developing on spec for Henry Ford. We're really proud of our partnership with Clark, the trades, and the city of Royal Oak. They're working in a tight, urban space, and doing a great job. We're really excited to be creating a development that will not only add a great option for medical care for the community, but will increase the amount of people downtown and with employees and visitors to the building."
Work on the building is expected to wrap up in November. The project is the major part of Royal Oak's $100 million-plus civic center development that will also create a new $12.2 million, 33,000-square-foot City Hall, a new $19 million police station, a 581-space parking structure and a new city park.
The medical center will open evening and weekend hours. Collectively, Henry Ford has more than 30 outpatient medical facilities throughout the Wayne-Oakland-Macomb region.
"We're delighted to partner with the City of Royal Oak and Boji Group on this major development," said Bob Riney, president of healthcare operations and chief operating officer for Henry Ford. "Royal Oak is a thriving community and we look forward to being a community partner beyond providing health care. We are committed to providing an exceptional experience for our current and new patients and meeting their health care needs close to home. The services and clinic hours we have planned will be optimal for patients of all ages."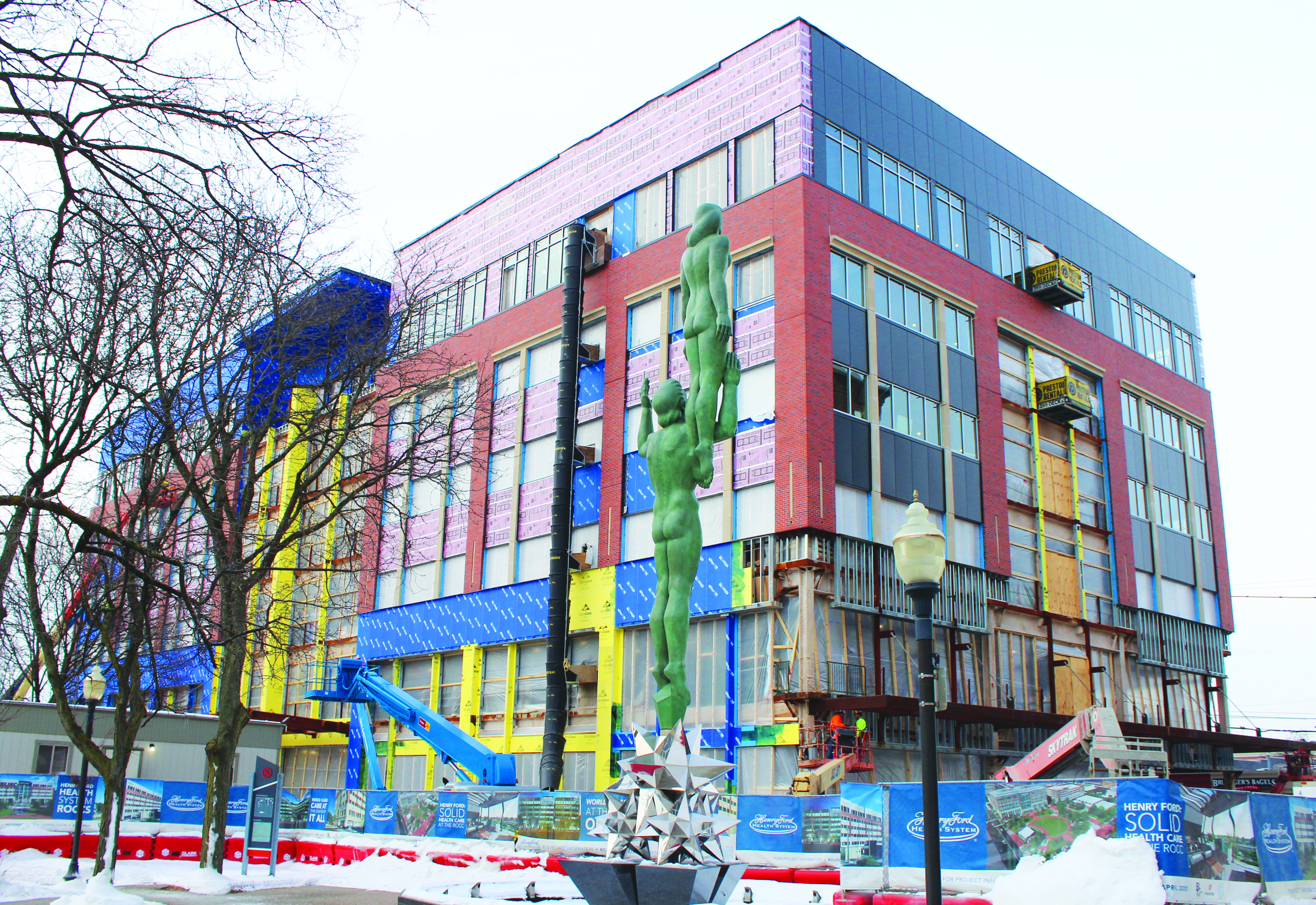 CONSTRUCTION OF HENRY FORD Health System's new six-story, 145,000-square-foot outpatient medical center in Royal Oak is part of a beehive of building trades activity in the city's Civic Center. Constantly watching construction in the foreground is a pair of green, unclothed statuary figures, part of a work called "Star Dream," created by famed sculptor Marshall Fredericks.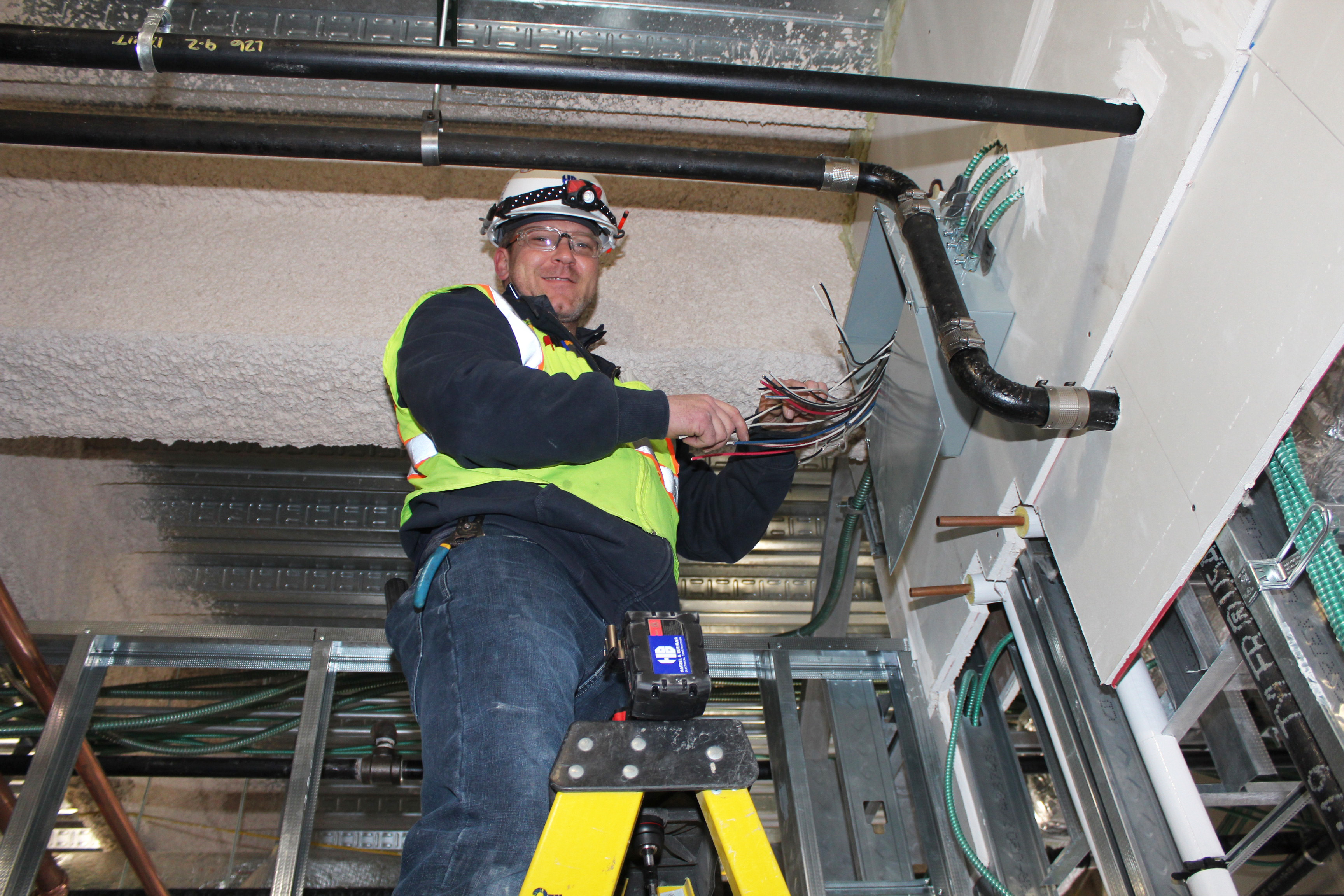 WORKING ON A SPLICE BOX at the Henry Ford-Royal Oak medical center is Dan Faust of IBEW Local 58. He's employed by Hatzel and Buehler.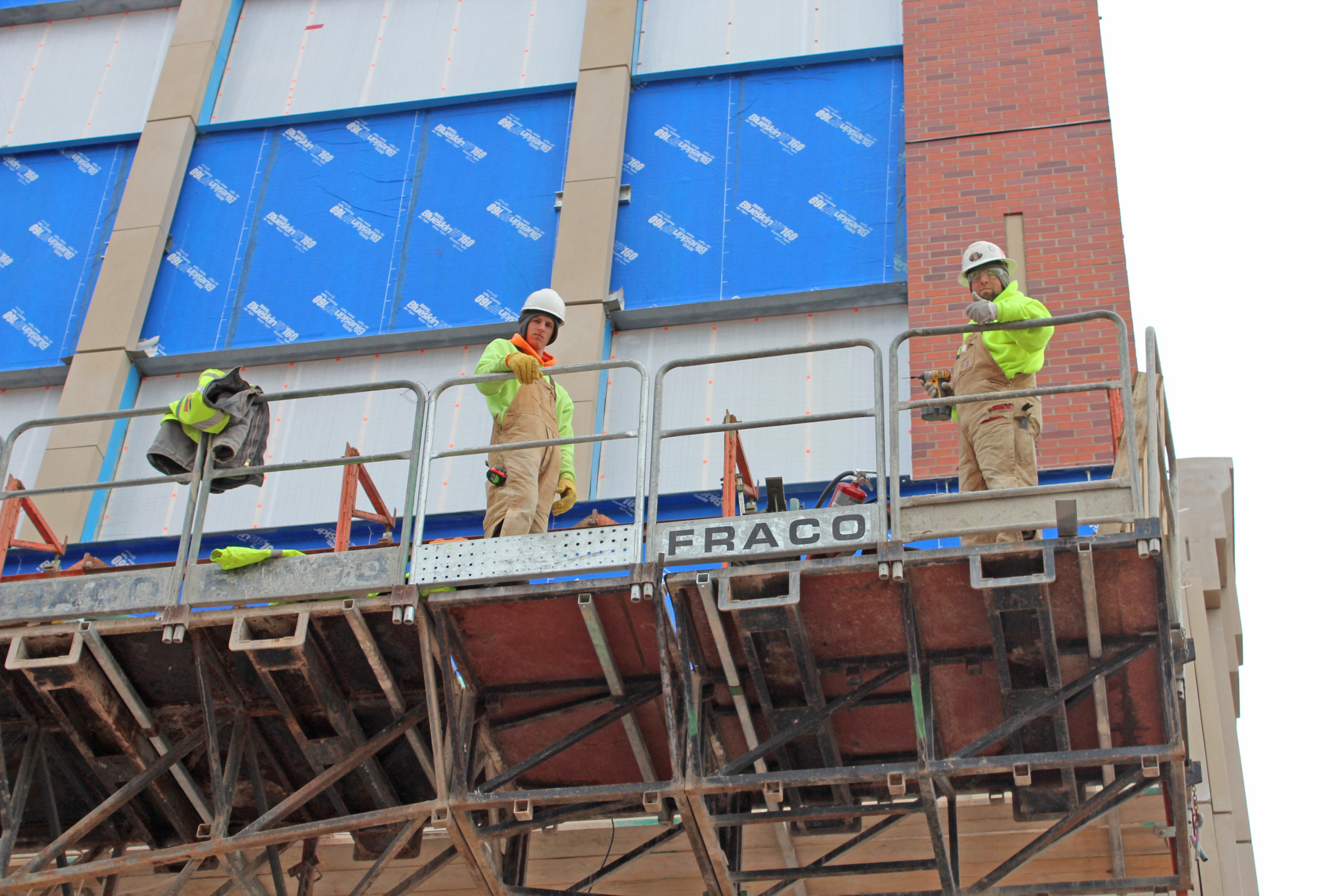 AT WORK ON THE EXTERIOR of the Henry Ford Royal Oak outpatient medical center are the (l-r) son-father team of Noah Beauchamp and Mike Beauchamp of Bricklayers and Allied Craftworkers Local 2. They're employed by Schiffer Mason Contractors.