Roncelli, trades undertake expansion for McLaren Macomb
Date Posted: August 9 2019
MOUNT CLEMENS - What will be the largest emergency department and trauma center in Macomb County is taking shape at McLaren Macomb Hospital.
Construction manager Roncelli, Inc., its subcontractors and building trades union workers are making that happen, doubling the size of the existing emergency area with the addition of 43,735-square-feet of new space to the northwest portion of the hospital. McLaren Macomb has been tracking a growing demand for emergency and trauma care in Macomb County, and the Wayne and Joan Webber Emergency and Trauma Center will allow the medical staff to accommodate that trend.
"There is a need in our community for a state-of-the-art emergency and trauma center, and with the support and assistance of many people, we will soon be able to provide one," said Tom Brisse, president and CEO of McLaren Macomb. "Trends show that the need for emergency care in Macomb County will continue to grow for many years to come, and we are proud to be in the position to meet that growing need."
The project will increase the number of trauma bays, allow for multiple ambulance entrances, and will create separate waiting rooms and entrances for high- and low-acuity patients and families. According to McLaren Macomb, the new emergency department will occupy the ground floor, with phase one of the construction also including a first-class learning, training and recreation graduate medical education center on the lower level for the more than 100 resident and fellowship physicians. The facility's helipad will also be moved to the back side of the hospital.
Roncelli Project Manager Justin Bott said the project only started to get moving late this spring, in good part because of delays brought on by the persistent rainy weather. "When you consider the hurdles we've had with weather, the frost, the high water table, we're in a pretty good position on this project; we're staying on track," he said.
Construction started on the expansion in April 2018, on land occupied by a parking lot. The new Emergency Department expects to see its first patients in the spring of 2020. Above that, the $68 million project will create the new five-story Northwest Tower. McLaren Macomb said current plans call for a surgical suite on the second floor, 32 ICU beds on the third floor and 32 private patient beds on the fourth and fifth floors.
The current work at the emergency department/trauma center is in keeping with the incremental expansion history of the McLaren Macomb Hospital. The facility's precursor, Mount Clemens General Hospital, opened with 40 beds and a staff of 17 physicians on Feb. 10, 1945 on Macomb Street in downtown Mt. Clemens.
Needing more room, in 1956, a new 104-bed Mount Clemens General Hospital was opened at the current Harrington Boulevard site, about a half mile west of Gratiot. That was just the beginning of building additions at the site over the decades. "What we have here at the facility today is a series of expansions," Bott said. And hundreds of building trades workers over the years have worked to make McLaren Macomb larger.
Plans were approved for a three-story addition in 1968. In 1972, additional floors were dedicated, adding medical surgical areas, pediatrics and a library. Later that year the facility dedicated its intensive care and coronary care units. The facility has expanded with about two major expansions every decade since, including in 2005, when the site's new, 151,000-square-foot Surgery Center opened, and in 2008 with the opening of the Ted B. Wahby Cancer Center.
Today, McLaren Macomb is a 288-bed acute care facility with more than 400 physicians and nearly 2,000 employees, making it one of Macomb County's top employers.
"This is a tremendous investment in the future of our community's health and well-being," said Macomb County Executive Mark Hackel, "Over the years, McLaren Macomb has demonstrated its proficiency in emergency and trauma care. And with the need for care continuing to grow, it's a comfort knowing they are growing as well."
Roncelli, their subcontracting partners and the building trades are making that growth happen at McLaren Macomb with a professional and proficient staff and workforce.
On one hand, "we're fortunate to be working in our own little world," Roncelli's Bott said, meaning the site of the expansion separates them somewhat from the rest of the hospital's operations. On the other hand, he said the tight site has necessitated the need "to play checkers" with the placement and movement of machines, materials and equipment.
"We're so crunched for space," Bott said. "The Clinton River is right behind us, and it's at flood stage. We've been watching it, it's definitely a concern." Carpenters are installing a line of 25-foot pilings between the river and the hospital to forestall erosion.
Bott said McLaren Macomb staff "have been most accommodating to what we have to do and what needs to happen with all the construction here. They have been a good group to work with." The project's plumbing foreman, Guideline's Charlie Stoll, echoed the good feelings about the project. "It's been a really smooth job, we're all getting along well. It's nice to come to work."
More than 100 building trades workers will toil on the emergency/trauma project at peak employment, and they still have quite a bit of work to do before the project is handed over to McLaren Macomb.
Bott added: "There's a lot happening here on the north side of the campus, but we're meeting the schedules, we're meeting the dates to get out of their way. We've been very fortunate with the tradespeople we have out here, they're really working well together."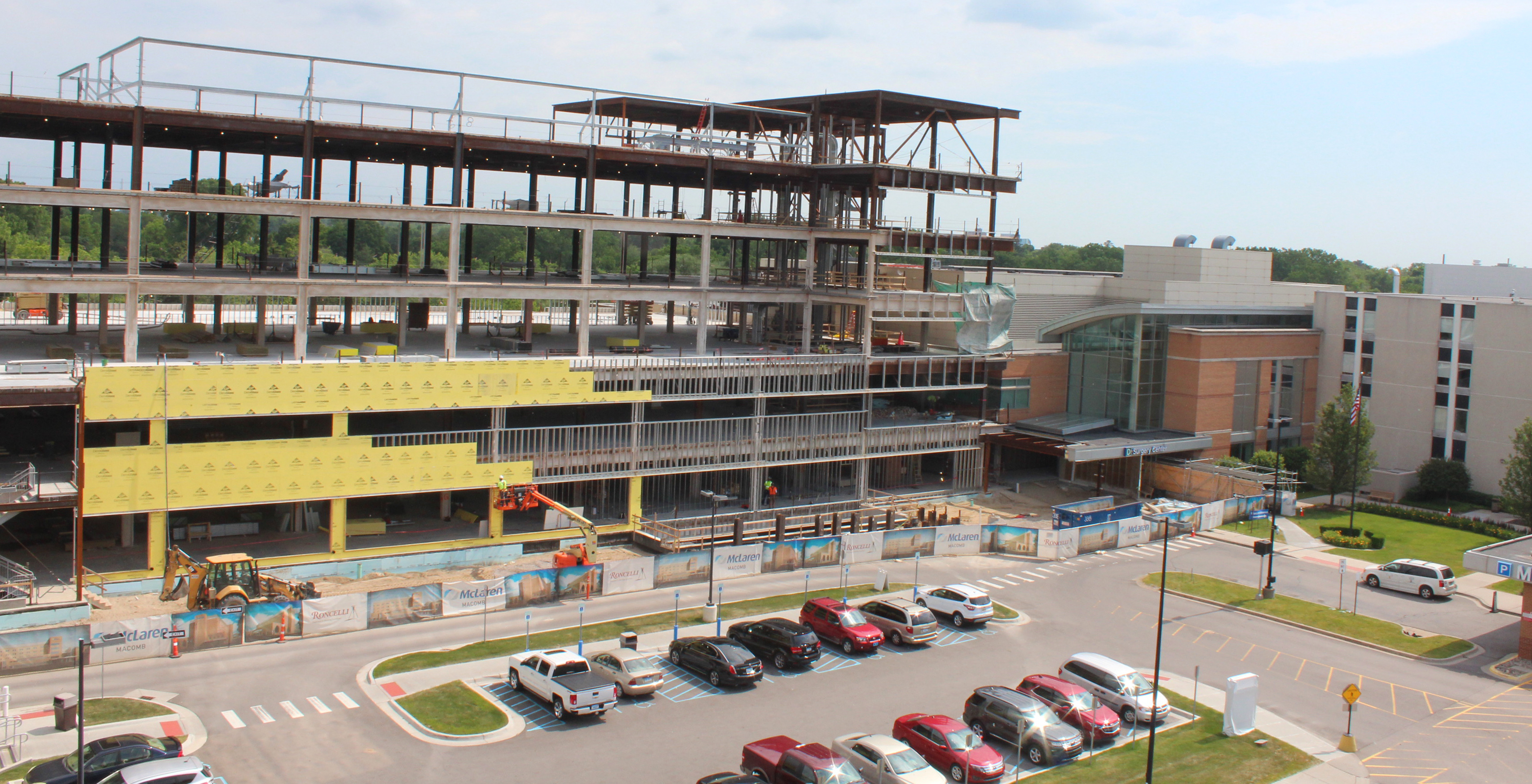 A NEW 43,735-SQUARE-FOOT expansion to the northwestern portion of McLaren Macomb Hospital in Mount Clemens will help address a growing demand for emergency and trauma care in Macomb County. Construction manager Roncelli, Inc., its subcontractors and building trades union workers are hard at work on the project.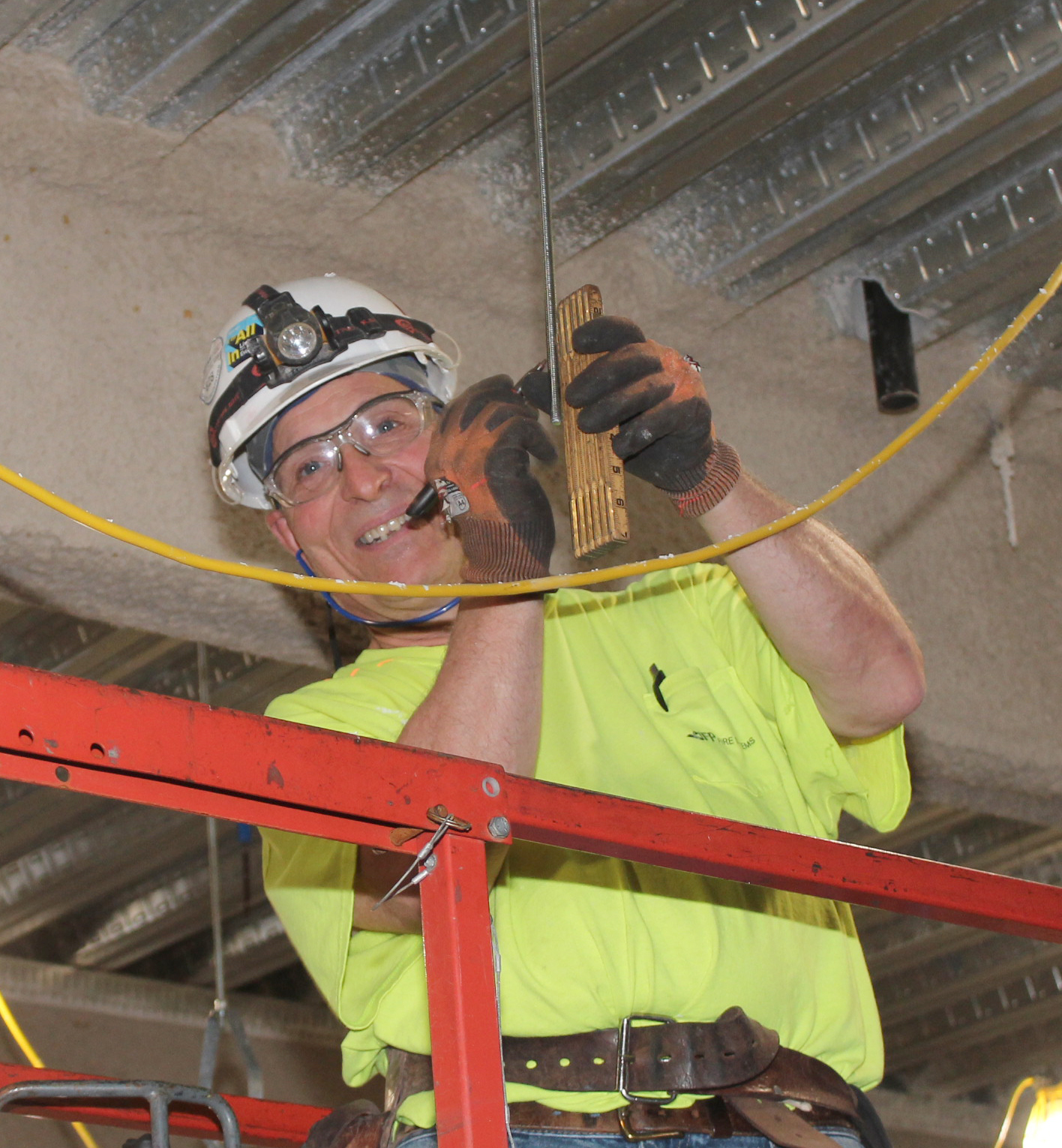 WHY IS STEVE BAUER smiling? When we visited the McLaren Macomb expansion project on Friday, June 28, we learned that it was Steve's final day working with the tools – after 41 years as a member of Sprinkler Fitters Local 704, he was about to enter retirement. Working for Elite Fire Safety, Steve was asked if he had anything to say. "It's been a good trade," he said. "It's been a good life." Congratulations, Steve!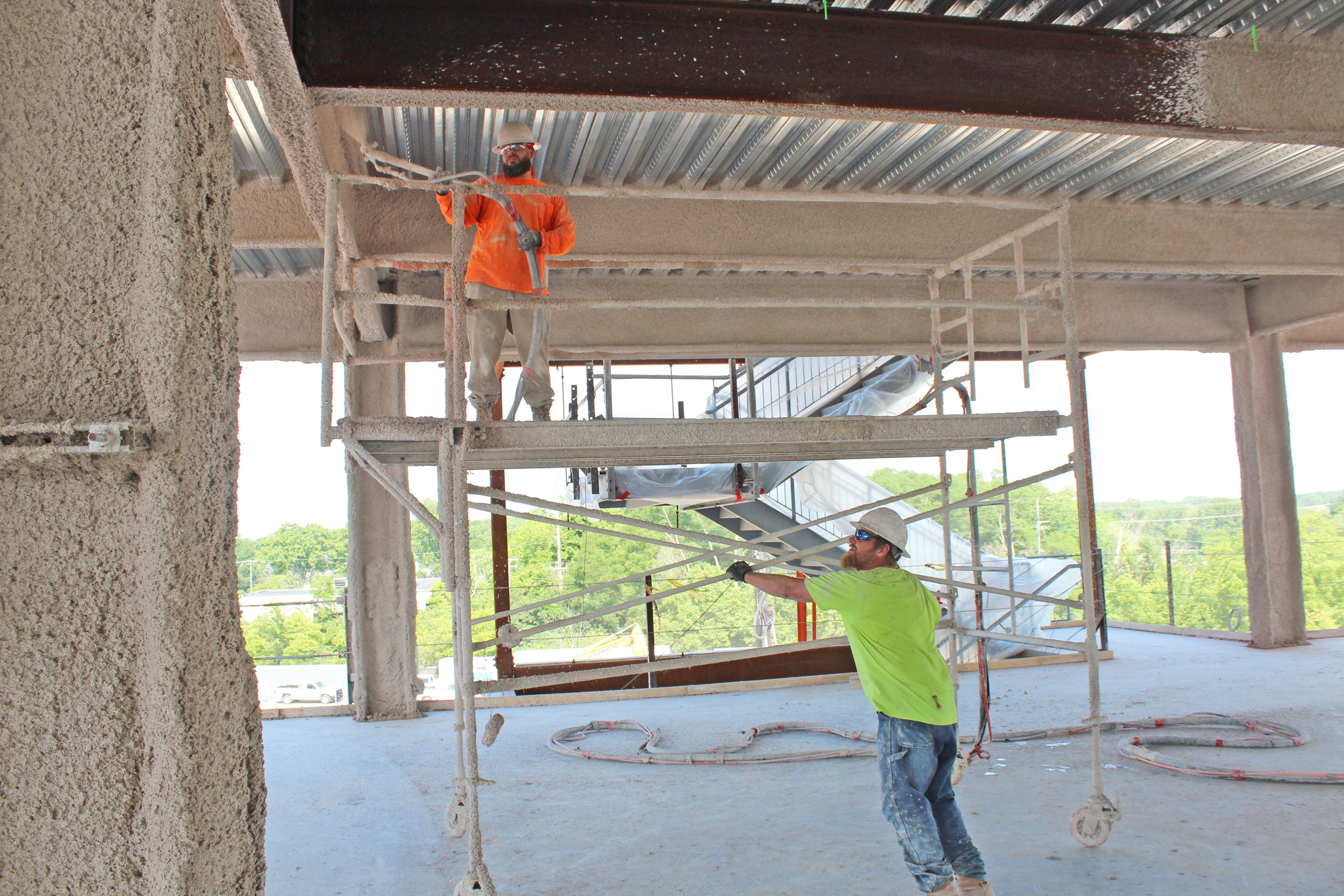 ADDING FIREPROOFING to an upper floor of the McLaren Macomb expansion project is Steve Bray, Jr. of Plasterers and Cement Masons Local 514. Holding the scaffold is Laborer Jeff Bean. They're employed by Saylor's Inc.