Trades burnish old cigar factory for new use by the Lear Corp.
Date Posted: February 26 2016
DETROIT - The Capitol Park district in Detroit is a bit off the beaten track in downtown Detroit, but the area has a tremendous collection of historic buildings that are currently being renovated and re-purposed.
One of the latest to get some love is at 119 State Street - automotive supplier Lear Corp. is undertaking a renovation of the building into its new Innovation and Design Center, which the company says will be "a hub for art, creativity, automotive advanced concept development and hands-on learning for Detroit college students."
Located off Griswold and helping to form the ring of buildings that enclose Capitol Park, the 129-year-old building at 119 State Street is being renovated by general contractor Tooles Contracting Group, its subcontractors and building trades union workers.
"It's a great old building," said Tooles Project Supt. Lee Carter. "The building is in pretty tough shape inside and out, so we're doing what amounts to a full restoration. A lot of people might have said this place should be knocked over, but Lear is giving the building new life."
And life for that building began in 1887 as a manufacturing facility for tobacco products. Before it became the Motor City, Detroit was a major hub for businesses like stove manufacturing and cigar rolling.
"Fronting the park since 1887, the structure at 119 State Street on the southeast corner at Shelby exemplified the combination of beauty and practicality," writes Jack Dempsey in Capitol Park: The Historic Heart of Detroit. "It was designed by Gordon W. Lloyd, an influential local architect and early employer of Albert Kahn. The Brown Brothers Tobacco Co. (makers of Newsboy Cigars) invested in the building during the era when tobacco was one of the biggest industries in Detroit."
The building was one of the scores in Detroit that have been purchased in the past few years by Dan Gilbert of Quicken Loans, and a founding partner of Bedrock Real Estate Services. Bedrock sold the building to Lear last September.
Carter said in recent weeks, between 30-40 Hardhats have been working on renovating the six-story building. The full restoration includes new windows and repairs to brick and mortar on the exterior, which was ongoing even in January, aided by the mild winter. Indoors, the trades have been working on rough framing, new electrical, HVAC and plumbing.
Hazardous material abatement is ongoing.
The structure of the interior, supported by an extensive system of wooden beams and joists, is also getting removed where necessary, replaced and strengthened by structural steel - a highly uncommon building material in Michigan in 1887.
Carter said the old wooden beams that have been removed would be re-purposed within the building where possible, as will some of the wooden flooring. He said there has been water damage on a significant portion of the interior, and the southeast section of the building - which is where heavy bathroom fixtures were added on each floor - made the building out of level by four inches.
Performing the interior structural work is Commercial Contracting Inc. CCC Foreman Norm Luck of Iron Workers Local 25 said that the building's original vertical timber-framed, 12-inch-square wood columns will remain in place, but all 12 columns on each floor are being mated with new steel members which will help solidify the building's structure and support a new rooftop patio.
"I'd say the existing structure wasn't in the best of shape," Luck said, "but we're putting in new steel from the basement piers to the rooftop, so the building will be strengthened quite a bit."
The interior floors of the 35,000-square-foot building are currently shelled out and awaiting the creation of new interior spaces. Much of the original wood and masonry will be kept exposed to show future generations how craftsmen of 1887 did their work - which would probably still be square if the bathrooms hadn't been added over the years and if the roof didn't leak.
"When we got here, nothing was plumb, nothing was level," said Carter last month, walking up a flight of stairs that indeed wasn't level. "But we're in the process of plumbing everything up, and we're going to leave behind a nice building."
Lear said 119 State Street would also be home to programs and facilities for automotive innovation, a non-automotive new business incubator, a think tank, creative design studio, an art gallery, Lear executive satellite offices, conference and meeting space. The renovation is expected to be complete this year.
"We are very excited to be opening a new Innovation and Design Center in downtown Detroit," said Lear Corp. President and CEO Matt Simoncini. "We plan to leverage the rapidly developing infrastructure in the Central Business District as well as the concentration of arts, science, and technology assets in the Capitol Park area to take our seating and electrical businesses to the next level."
Capitol Park is rapidly becoming a center for art, restaurants, shops, galleries and residential lofts within walking distance of the future M-1 RAIL connecting Midtown and downtown.
"Detroit is returning to its roots as a leader in manufacturing innovation," said Detroit Mayor Mike Duggan. "Lear's decision to locate this new hub in Capitol Park is another in a series of recent similar investments in our city and yet another example of Lear's strong commitment to Detroit."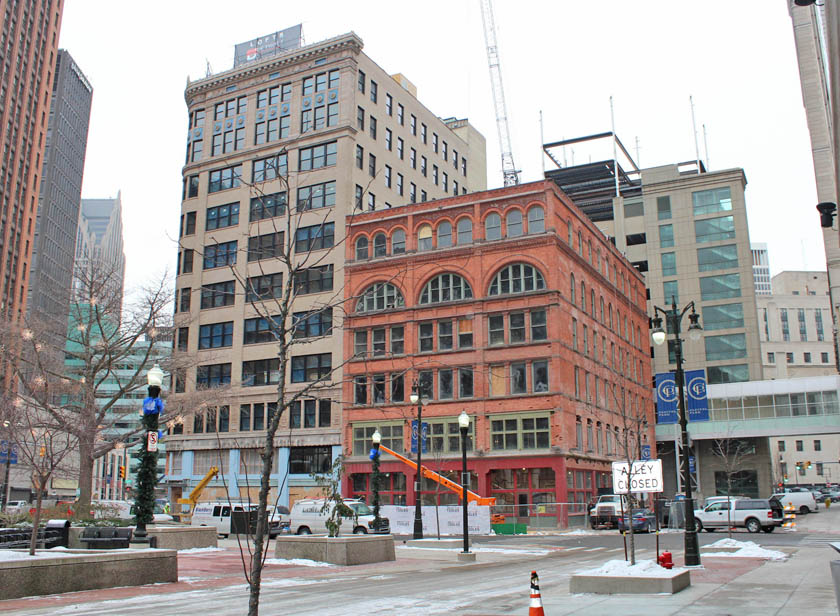 A CIGAR MANUFACTING plant when it opened in 1887, the six-story red-brick building at 119 State Street in Detroit is being rehabilitated and transformed by Tooles Contracting and the building trades for automotive supplier Lear Corp. It is among the oldest buildings in the downtown area, and is part of a ring of neighboring structures in the city's Capitol Park enclave. Capitol Park is so named because when Michigan became a state in 1837, a demolished courthouse nearby became the temporary state capitol.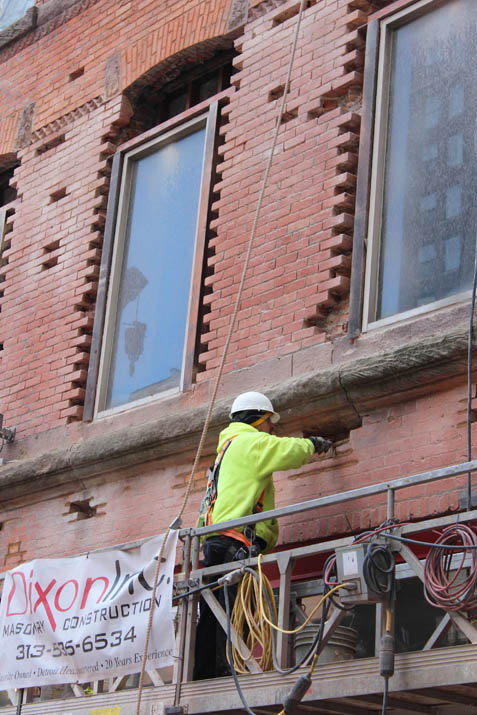 THE 119 STATE ST. project in Detroit will require the placement of 1,200 new bricks and new tuckpointing on 20 percent of the building. Doing just that on the west face of the building is Todd Neilson of Bricklayers and Allied Craftworkers Local 2. He is employed by Dixon Masonry.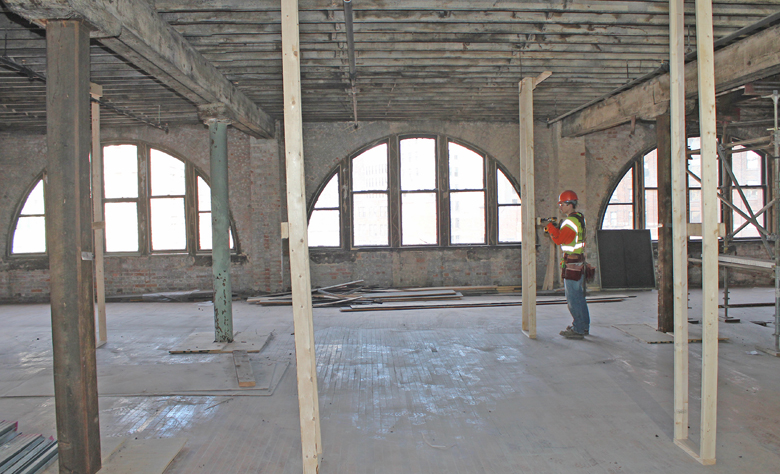 BUILDING A NEW interior wall frame on the fifth floor of 119 State Street in Detroit is Travis Longuski of Carpenters Local 687. He's employed by Tooles Contracting. Stripped to its shell, this floor and most of the rest of the building currently appear as it did in 1887.